Are you searching for a top-class coffee maker?
Congrats! You've landed the perfect place. I will discuss jura giga 5 review in this post and introduce you with a best-in-class coffee maker. So, without any delay, let's get started.
Jura Giga 5 Black Friday / Cyber Monday Sale 2021
looking for best Jura Giga 5 black friday deals. Here I listed down best jura Giga 5 black friday offers for you. with these I also add some best Jura black friday deals for you.
Other Espresso machine Black friday Deals –
Jura Giga 5 Review
Jura Giga 5 has created a new benchmark in terms of aesthetics, perfection, and performance for the segment of the coffee machine. And thus it has become possible to bring the advanced technology right into coffee buff's home who always in search of the highest standards.
Along with the strength of two grinders, two heating systems plus two pumps, this amazing coffee machine is able to produce two coffee specialties on a simultaneous basis. It offers an unmatched range of specialties that means the fulfillment of the requirements and expectations of all coffee aficionados. Now, it's time to discuss the incredible features, benefits, and shortcomings of Jura Giga 5.
Features of Jura Giga 5 coffee maker
The first and foremost thing that you'll witness in Jura Giga 5 is its mind-blowing appearance. The slick spouts, aluminum front, and black plastic sides (amalgamated with its color TFT screen) have improved its appearance so that it can match with any type of kitchen decor.
The front of this incredible machine is featured with a brilliantly-designed hot water spout plus two adjustable spouts for preparing coffee. You can effortlessly move the coffee spouts up and down to fit cups of different sizes. The coffee spouts are actually part of the same technique and that's why they can move together. Both of them are used in times of preparing a single cup of coffee.
The top segment of this coffee machine is as similarly impressive as its front part. It is equipped with an on/off button, program button, and rotary switch. It will be just fun for you to use it and moreover, it's the key to navigating the menu of this machine. It lights up red whenever it's in use- an additional advantage.
Vents are present on the top part of this machine and they flap up throughout the coffee preparation. Behind these vents, a concealed compartment is present for ground coffee beans. Moreover, a coffee scoop is also hidden under an adjacent black panel. The incredible barista setting enables you to start your barista skills. Jura Giga 5 is able to prepare coffee fast and its milk foam feature is similar to coffeehouse quality.
Owing to this incredible coffee maker, you can treat yourself plus your guests to a Pepresso, Marocchino, Café Mélange, White Cool, Irish coffee, Winter Magic coffee, Mango Lassi, Red Cool, Viennese coffee, flavored latte macchiato, Shakerato, or Summer Fire. It's really impressive, isn't it?
The dual spout of this coffee maker is able to dispense the liquid into the cup and you can also smoothly adjust its height (between 2.75 – 6.25 in) and width (between 0.78 – 2.0 in). Whenever you prepare a latte macchiato, this incredibly-designed coffee machine can automatically dispense hot milk into the glasses. It is immediately followed by milk foam and eventually by coffee.
Its patented multi chamber system is capable of frothing the milk to incredibly professional barista standard. This revolutionary fine foam technology can create finely-textured milk foam that's with a long-lasting consistency.
The Brew Unit plus the Control System are the integral parts of all super-automatic machines and the Jura Giga 5 is not an exception at all. But, it's an exception because it has utilized cutting edge technology and organized the controls in such a manner that the entire system has become incredibly intuitive.
Jura Giga 5 Review – Features that I like in Jura 13623
The operation of the Jura Giga 5 coffee machine is both fast and quiet just like a whisper- the credit goes to two ceramic disc grinders.
With this incredible coffee machine, you can easily become a professional barista instantly- thanks to its 12 imaginative Barista specialties that you can select by turning the rotary switch.
You can effortlessly prepare your specialty coffee in a short period, owing to a TFT display, accompanied by the rotary selection.
It features clean and pure lines for a sovereign and unique character. The Jura Giga 5 coffee maker is of top-notch quality. Its quality has been doubled with the amalgamated power of two grinders plus two heating systems and thus this machine can prepare coffee of every specialty to great perfection.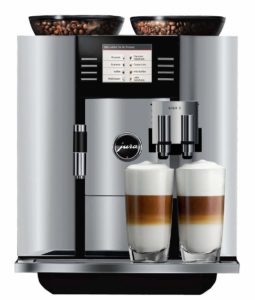 Cons of Jura Giga 5
The shortcomings of the Jura Giga 5 coffee maker are that it is an expensive coffee maker and it needs a lot of maintenance.
Check other Jura Coffee Machine reviews –
Conclusion
If you want to have a good looking coffee maker, relish top-quality coffee, silky smooth milk drinks, and overall a futuristic machine, then you should definitely have the Jura Giga 5 coffee maker. Moreover, if you want your machine in a place where more than 50 cups to be prepared daily, it would be an ideal choice for you.
If you need this machine for a house environment or small office, you can get far inexpensive and smaller machine than this. Moreover, if it's needed to serve more than 200 daily users, you should look for another coffee maker. But, if it matches your requirements, you should definitely have this absolutely wonderful coffee maker.
I hope that the jura giga 5 review was helpful for you. So, it's time for bringing this machine in your home and sharpening your barista skills. Nonetheless, you can also opt for the Jura Z6 coffee maker.