Do you wonder how to make beetroot juice with a blender? You have come to the right place. The taste of fresh beetroot juice is divine. Moreover, it also helps to alleviate blood pressure, boost blood circulation, and contributes to glowing skin.
You can prepare fresh beetroot juice at your comfort zone by using your blender. It is also okay to add herbs and fruits to enhance the sweetness. Now, let's continue the discussion.
Benefits of Beetroots
Beetroots are rich in minerals and vitamins. Moreover, it is low in fat as well as calories. Moreover, this magical vegetable comes with lots of pigments and inorganic nitrates. And both of these nutrients come packed with loads of health benefits.
Beetroots come loaded with nitrates, which can lower the blood pressure. Moreover, it can also alleviate the risk of stroke, heart failure, and heart attacks.
Beets can help to improve athletic performance by boosting the use of oxygen and the exhaustion time. So, if you are an athlete, you should consume beets two to three hours before your training session or competition.
Beets might offer multiple anti-inflammatory effects. However, this claim needs more research to support it.
This vegetable is a repository of fiber and it is good for our digestive health. It also lowers the risk of various long-term health issues.
Since beets come packed with nitrates, it might help to improve the flow of blood to the brain. It can also cognitive function and may alleviate dementia risk. Nonetheless, more research is needed in this regard.
Beets come with a high amount of water and a low amount of calories. And both of the aspects help to lose weight. So, if you want to shed extra pounds from your body, you can incorporate beets to your diet after consulting your dietician.
Beetroot is an undoubtedly versatile and awe-inspiring vegetable and it is very easy to add to one's diet.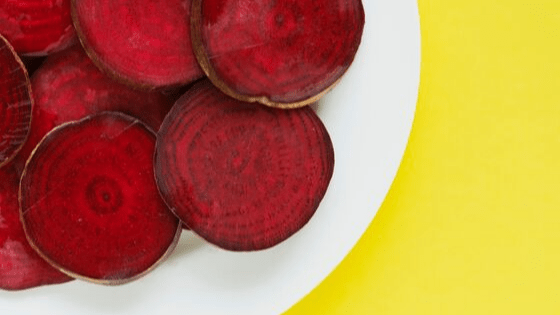 How to make beetroot juice with a blender
Ingredients
Peeled, Chopped Red Beet: One
Kale Leaf: One (Do not forget to remove and set the stem part aside)
Fuji Apple: One (You need to peel, core, and chop it)
Orange: One (You need to peel and squeeze it)
Grated Ginger: One Teaspoon
Orange Rind: One Teaspoon
Coconut Water: One and a half Cups
This much ingredient will make one serving.
Procedure
Start the process by adding all the specified ingredients to your blender. Now, keep on blending until you are getting a smooth mixture.
Now, take a metal coffee filter and start straining the beetroot juice into a spacious glass.
Do not discard the pulp. Take a freezer-safe container and store the pulp in it. Now, refrigerate it as long as it gets a baking texture.
It's time to relish a refreshing beetroot juice. Pat your shoulder, as you are taking a vitamin-rich beverage.
Another beetroot juice making Process
Ingredients for Basic Beetroot Juice
One Serving
Beetroots: four small or two large beets
Water: One-fourth Cup (Optional)
Ingredients for Sweet Beetroot Juice
One Serving
Beetroot: One Large
Apple: One Large
Carrots: 3 (Whole)
Fresh Ginger: One Inch
Apple Juice (Unsweetened): One Fourth Cup
Ingredients for Tropical Beetroot Juice
For One serving
Beetroot: One (Small)
Pineapple: One-fourth of one
Cucumber: Half of a small one
Coconut Water or Pineapple Juice: One Fourth Cup
Preparation
Remove the green part atop the beetroot and cut it about one-fourth inch from the end of its root. You can store beet stems and green parts for future purposes, as per your wish.
It's very important to clean the beetroot properly. Use cool, running water for the purpose and make sure they are free of debris or dirt.
Procedure
Start the procedure by adding four beets and one-fourth cup of water. Remember, the power of the blender will determine the size of the beetroots. If it is not powerful enough, you need to make smaller beetroot chunks.
Beetroots are hard in nature. That's why most of the blenders face troubles in processing dry beetroots. It's better to sprinkle some water to streamline this process at the starting phase itself.
Now, start blending it with your blender on high speed until all the larger pieces become smooth. However, you will still see a lot of beetroot pulp. But, try to smooth the chunks as much as possible.
Do you want to toss fresh mint leaves? Then, you can do that following the blending process.
It's time for checking whether all larger chunks get smoothened by dipping a fork. If you find any, start blending the beetroots again for around 30 seconds. Now, check again.
Now, take a fine-mesh strainer and place it over a spacious bowl. Start straining the beetroot juice through it. If you do not want to leave your skin pinkish, wear food-grade rubber gloves.
Now, you have learned how to make beetroot juice with a blender. It's time to make this fresh, refreshing juice and relish it to soothe yourself.
Disclaimer
Kitchentoolsmaster.com is a participant in the Amazon Services LLC Associates Program, an affiliate advertising program designed to provide a means for sites to earn advertising fees by advertising and linking to Amazon.com. Amazon, the Amazon logo, AmazonSupply, and the AmazonSupply logo are trademarks of Amazon.com, amazon.co.uk, amazon.ca Inc. or its affiliates.