Do you want to make mayonnaise in a blender ? Congrats! You have reached the right place. Just go through the post below.
A Brief Introduction
Mayonnaise making with a blender is very easy. The blender will do the major parts of the entire process. You must make use of pasteurized eggs to stay safe from the salmonella infection.
Preparing fresh mayonnaise is simple and budget-friendly. And the taste will blow your mind. The silkiness of homemade mayonnaise is just mind-blowing. It is one of the emulsions, used in various recipes.
Do you want to make mayonnaise at your comfort zone? You can definitely do, but it is better to understand its science first.
Mayonnaise is an oil emulsion in lemon juice. Lecithin (present in the egg yolks) stabilizes mayonnaise. It is known as "broken" mayonnaise. Maybe you have been mixing lemon juice and oil for a long time but it will result in a gooey mixture until you are adding the egg yolk (the stabilizing agent).
How to make mayonnaise in a Blender
How to make mayonnaise in a blender
Learn how you can make mayonnaise in your blender
Ingredients
2

Egg Yolk

(it must be in room temperature)

1

Egg

(it needs to be in room temperature)

1

tbsp

Lemon Juice

(it must be freshly-squeezed)

1

tbsp

Dijon-style Mustard

½

tbsp

Salt

1

pinch

White paper

(must be freshly ground)

2

cups

Vegetable Oil
Instructions
Since this recipe needs raw eggs, you must make use of only the freshest eggs. Once eggs start getting old, lecithin starts breaking down. As a result, the stabilizing capability of the egg yolk starts reducing that is very important in making mayonnaise.

Do you prefer vinegar than lemon juice? You can use vinegar but lemon juice can greatly improve the mayonnaise flavor.

When it comes to preparing a basic mayonnaise, you should use oil with a gentle flavor. Thus, you can prevent oil from overpowering other ingredients of mayonnaise.

Do you want to refrigerate the mayonnaise? Yes?

You must make use of refined oil like sunflower oil or pure olive oil. If you use unrefined oil, it will solidify after being chilled. However, later, it will get separated once it returns into room temperature.

Take a blender and start adding whole egg, salt, egg yolks, white pepper, mustard, and lemon juice. Start blending for ten seconds. You can keep blending for more time if needed. However, the resulting mixture must be creamy.

Start pouring the oil in a very slow pace and small quantities for initiating the emulsion procedure. In this stage, you need to add a small amount of oil (10 to 15%). You must wait for around 30 seconds between two additions. Remember, you must add oil slowly in a small amount when it is for the first time.

Once the sauce starts thickening, you might include the oil within a thin stream. You must not stop the blender in this step. Check carefully whether the oil is getting absorbed well. So, stop pouring the oil every couple of seconds. Now, it's time for adding around 50% oil in this step.

Now, keep pouring 1 1/2 cups of oil that is remaining. However, it is not necessary to make use of the entire remaining oil in this stage.

It's time for stopping the blender. And now you need to start tasting the mayonnaise to check the flavor. Don't forget to check the consistency.

Do you think there is a problem in seasoning? If it is so, just try to correct it.

Do you think you have got a very thick mayonnaise? Yes? It's time to add some warm water. Or. You can add lemon the needed amount of juice. As a result, your mayonnaise will become thin. You can start using this mayonnaise in this stage.

Do you need further thicker mayonnaise? You can add the leftover oil and get a thicker mayonnaise.

Next, you need to pour the prepared mayonnaise to a jar and refrigerate it. Are you not using it now? It's okay. Just take a plastic wrap and cover the jar before refrigerating. You can use it for one week. Remember, the freshness of the eggs will determine the longevity of your mayonnaise.

You will get around 2 to 2 1/4 cups of mayonnaise in this process. It's time to make something delicious with your homemade mayonnaise.
Recipe Notes
Each of the mayonnaise ingredients needs to be at room temperature. But, if you feel, you can take warm water and immerse the eggs in them for only 10 minutes. Thus, you can get them to the correct temperature and then break them for making mayonnaise.
I hope you have got some insightful information into mayonnaise. It's time to prepare mayonnaise at your home and surprise your near and dear ones.
What are the best blender to make mayonnaise ?
For mayonnaise, a regular blender will be enough to do the task. Here I listed down the best blender from the ninja, Vitamix, and Blendtec.
35%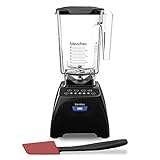 Blendtec Classic 575 Blenderblack friday and Cyber Monday Deals
Easy blending cycles 1-touch buttons 4 pre-programmed cycles pulse and 5 speed manual control with the ability to achieve a variety of...
No chopping prep save time and never a need to chop slice or dice in advance of blending
Patented blade/80% thicker stainless-steel forged blade with wings for amazingly smooth blends (10x stronger than other blender blades) note...
23%
Vitamix 5200 Blenderblack friday and Cyber Monday Deals
Variable Speed Control: Easily adjust speed to achieve a variety of textures. The dial can be rotated at any point during the blend, so...
Large Batches: The size and shape of the self-cleaning 64-ounce container is ideal for blending medium to large batches. Design Feature :...
Hot Soup: The blades in the Vitamix container reach speeds fast enough to create friction heat, bringing cold ingredients to steaming hot in...
36%
Ninja Blender BL770black friday and Cyber Monday Deals
72 ounce total crushing pitcher pulverizes ice to snow in seconds for creamy frozen drinks and smoothies; 2 horsepower
Eight cup food processor bowl provides perfect, even chopping and makes up to 2 pounds of dough in 30 seconds
Two 16 ounce Nutri Ninja cups with to go lids are perfect for creating personalized, nutrient rich drinks to take on the go
Check also –
I hope you learn how to make mayonnaise in a blender. If you have any query then leave message below.
Disclaimer
Kitchentoolsmaster.com is a participant in the Amazon Services LLC Associates Program, an affiliate advertising program designed to provide a means for sites to earn advertising fees by advertising and linking to Amazon.com. Amazon, the Amazon logo, AmazonSupply, and the AmazonSupply logo are trademarks of Amazon.com, amazon.co.uk, amazon.ca Inc. or its affiliates.
Last update on 2020-11-25 / Affiliate links / Images from Amazon Product Advertising API