Most of the people prefer coffee in their daily schedules. Hence, it comes with the need for an ideal coffee maker.
Do you want to relish delectable cups of coffee but get confused about which coffee maker to choose? Congrats! You have come to the right place. The keurig k elite review will help you to make a better buying decision.
The Keurig K-Elite Coffee Maker comes with incredible features that will make your coffee-making journey extremely delightful.
Keurig K elite Review
Keurig K Elite Black Friday and Cyber Monday Deals 2020
As we know black Friday and Cyber Monday is the best time to buy any product. So why to miss Keurig K Elite black Friday and Cyber Monday deals. Here I listed down the best Keurig k Elite Black Friday deals for you. Keep in mind, this year's Black Friday sale is started on 27th November, and the Cyber Monday sale will start on 30th November. So be ready to grab the maximum discount on these two days.
Last updated on November 24, 2020 12:00 am
Keurig K-Elite Coffee Maker is one of the perfect options for single-serving coffee enthusiasts. The revolutionary "K-Cup" is making this appliance so much popular that it is surpassing the drip coffee maker.
As a result, it is more likely to make coffee buffs to switch to Keurig K-Elite by substituting their drip coffee machines.
The coffee maker sports a spacious water reservoir with a 75-ounce of capacity. As a result, it can brew a maximum of eight cups of delectable coffee before the next refill.
The Keurig K-Elite features a brilliant "Quiet-Brew" technology. That means you can brew your coffee without much noise. This wonderful coffee maker can brew delectable coffee, hot cocoa, tea, iced drinks, and specialty.
Moreover, it allows users to brew their personalized ground coffee. The machine also comes with a brewer maintenance alert so that you can descale it on time.
If you are searching for a single-serving coffee brewer, the Keurig K-Elite makes an ideal option for you.
Keurig K Elite Features, Pros and Cons
A Kitchen Counter-Friendly Coffee Machine:
The Keurig K-Elite comes as a spacious brewer to serve multiple cups of coffee at a stretch. Its footprint measures 9.9 inches × 12.7 inches. It measures 13.1 inches height whenever the machine is closed.
Once you open it, the 16.5 inches of height will make it an ideal option for your kitchen countertop. Hence, if you have a compact kitchen, you can consider the Keurig K-Elite.
A Spacious Machine:
The Keurig K-Elite appears in a spacious size. As a result, it becomes one of the feature-loaded coffee makers in today's market.
The large 75-ounce water reservoir is a perfect option for a one-cup coffee drinker. In that case, it needs refilling every week only.
You can install a charcoal water filter down the reservoir to enhance the coffee taste and durability of the appliance. However, if you have a source of soft water, you can avoid the idea of using a water filter.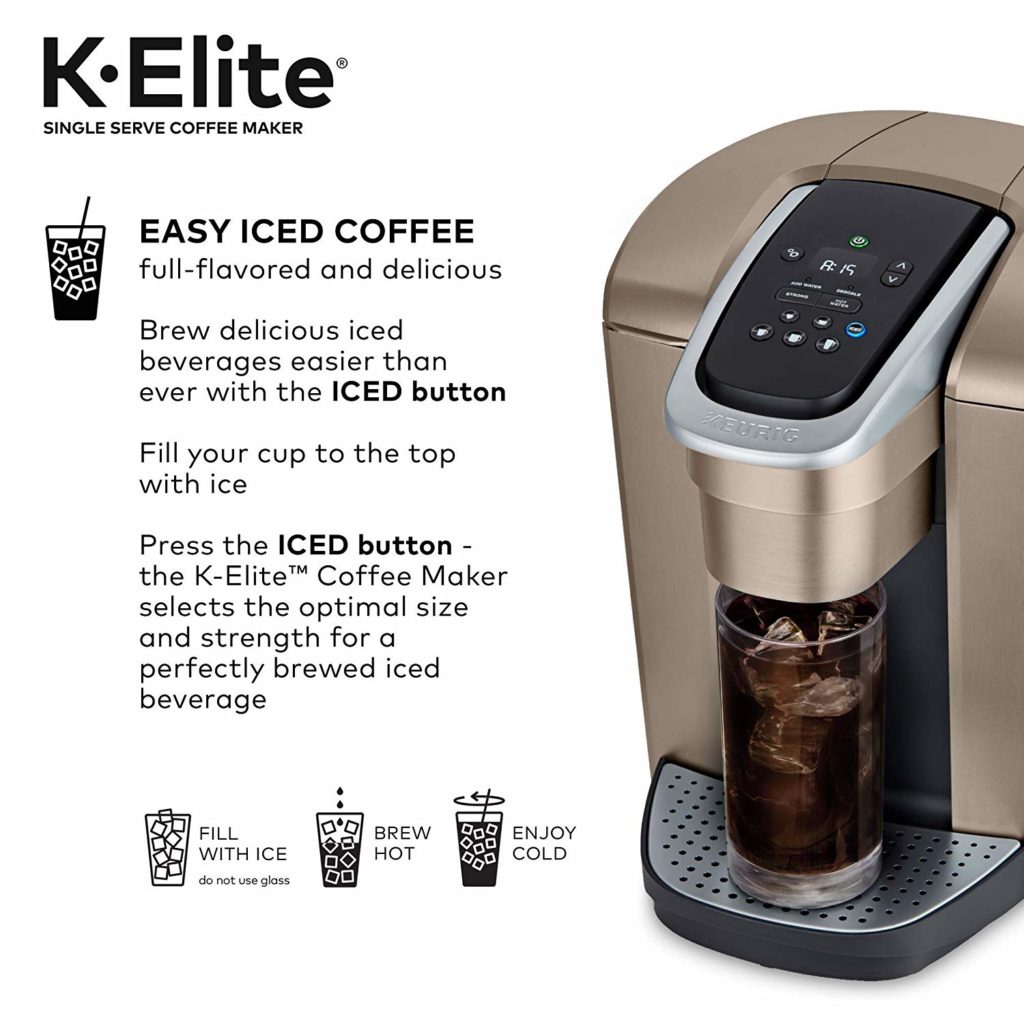 Incredible Appearance:
The Keurig K-Elite coffee maker features an impressive Brushed Silver or Brushed Slate finish. Its aesthetically appealing look will enhance the beauty of your kitchen. Irrespective of the decor, the coffee maker will make an elegant presence in your kitchen.
The Brilliant Removable Drip Tray:
The machine also equips with a standard removable drip tray. As a result, it can hold spacious coffee mugs, such as travel mugs. Moreover, it can brew different cup sizes like 4, 6, 8, 10 as well as 12-ounce cups.
Faster Brewing:
Now, you do not need to skip your coffee in busy mornings. The Keurig K-Elite can brew one cup of coffee less than 1 minute. The appliance sports a revolutionary functionality, called "Smart Start."
This feature has made the appliance start brewing even when it is not warmed up completely. And then, once it reaches the perfect temperature, it will begin brewing on its own. However, you need to keep your coffee mug on its drip tray to avoid any mess.
Strong Mode For Strong Coffee:
The Keurig K-Elite sports the "Strong" mode like previous models. So, whenever you are in a mood of relishing delectable, strong coffee, just enable this mode. It slows down the brewing extraction process to offer the delicacy of coffee grounds.
Auto ON & Auto OFF Feature:
The feature-filled coffee maker comes with "Auto On" as well as "Auto Off" features. So, if you are a coffee aficionado, you can set a wake-up time with ease. Moreover, the appliance can shut off itself following the inactivity of two hours. Hence, you can start your every morning with amazing freshness.
Selection Of Brewing Temperature:
The Keurig K-Elite comes with the convenience of choosing the desired brewing temperature. That means you can opt for the required temperature to get a perfect cup of coffee. The coffee maker allows temperature control between 187 and 192 degrees Fahrenheit. As a result, you can greatly improve your barista skills.
Easy-Installation Of Water Filter:
You can easily install the water filter in the coffee maker. As a result, you can expect an improved taste of the coffee.
Moreover, this filter also enhances the lifespan of the machine. If you do not have the supply of soft water in your place, use these filters in your coffee maker daily. However, it is also essential to change these filters periodically.
The water filter handle helps protect the filter under the tank. Moreover, changing the filter in this coffee maker is very easy as well.
6-Count K-Cup Variety Pack:
The Keurig K-Elite features the 6-count K-Cup variety pack. As a result, you can start the brewing process in less time.
Brewing Iced Coffee:
The scorching summer comes with the demand for some chilly drink to get refreshed. So, if you can brew lip-smacking iced coffee in a single press, how will it be? The Keurig K-Elite has come with this convenience.
User-Friendly Controls:
The machine comes with easy-to-operate controls. It features physical buttons to streamline usability. Although the display is tremendously advanced, user-friendliness is the key advantage.
Integrated Clock:
The Keurig K-Elite equips an integrated clock on its digital display. It has made the entire operation simpler.
Check Other Keurig Coffee Maker reviews –
Keurig Mini Review
Keurig K Select Review
Pros
The spacious, removable water reservoir of 75-oz capacity
Auto On & Auto Off
Cons
Descaling is essential
K-Cups needed
The Bottom Line
Was the keurig k elite review helpful for you? I guess, it was! In simple words, the Keurig K-Elite is a beautiful manifestation of art. Moreover, it is a brilliant combination of efficiency, elegance, and aesthetics.
If you are a coffee enthusiast and want to see a feature-loaded coffee maker at your kitchen countertop, buy Keurig K-Elite today.
Disclaimer
Kitchentoolsmaster.com is a participant in the Amazon Services LLC Associates Program, an affiliate advertising program designed to provide a means for sites to earn advertising fees by advertising and linking to Amazon.com. Amazon, the Amazon logo, AmazonSupply, and the AmazonSupply logo are trademarks of Amazon.com, amazon.co.uk, amazon.ca Inc. or its affiliates.