Do you wantto relish tasty yet nutrient-rich juice? Then, you should definitely know theprocess of making carrot juice with a blender.
Carrot juice is a repository of beta-carotene and different types of vitamins and minerals, including phosphorus, calcium, and potassium. If you want to take care of your nails, hair, and skin, then you can take help of carrots.
Moreover,carrots are beneficial for our liver function as well. Beta-carotene isresponsible for the vibrant color of carrots. This component helps to maintaingood brain health, youthful skin, and eye health.
Now, youcan realize how it can be a great idea to prepare carrot juice in your comfortzone. Thus, you can get important nutrients for your health in a simple way.So, are you ready to boost your body? So, keep on reading.
Do you want to get the best possible benefits from juicing? Then, it's a must to press the juices properly. Thus, you can expect to retain the nutrients plus enzymes. And that's how vegetable juices can become extremely healthy for our wellbeing.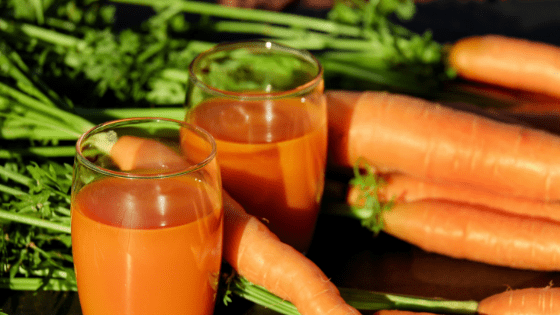 How to make carrot juice with a blender – Easy Steps
Ingredients
Procedure
Do you want to indulge in completely freshjuice of carrot? Then, this post is going to be very useful for you.
Remember, the number of carrots for juicingdepends on the quantity of juice you look for. You can take two to threecarrots to have a sufficient amount of juice for you.
The first step is about washing followed bychopping the carrots. And then, you need to start adding them to your blender.You can take help of any kind of blender.
Next, it's time to add a little amount ofwater (filtered). Remember, when you make juices of more watery vegetables, youmight not need any extra water. When it comes to carrot juice, you must add asufficient amount of water. Then, start blending on medium as long as all theingredients become properly pulverized.
Now, it's time for taking a spacious containerand placing a nut milk bag over it. Gently pour the whole mixture through it.Don't forget to squeeze the juice as much as possible. Moreover, you can alsofreeze the remaining pulp and use it in some other preparations.
Now, it's tasting time. However, the best timeto relish the carrot juice is on an empty stomach. It can be the first thingthat you can do prior to your breakfast during the morning.
If there is a possibility of a sudden increasein the blood sugar after taking the carrot juice, you can add protein and fatto it.
Do you want to make carrot juice in a largequantity? But, it's always good to take fresh juice. You can store the juiceinstantly in your refrigerator. And just defrost it using a water bath in timesof serving.
Now, you arefamiliar with the process of making this tasty yet nutritious juice. But,knowing a detailed process is important to get it perfect.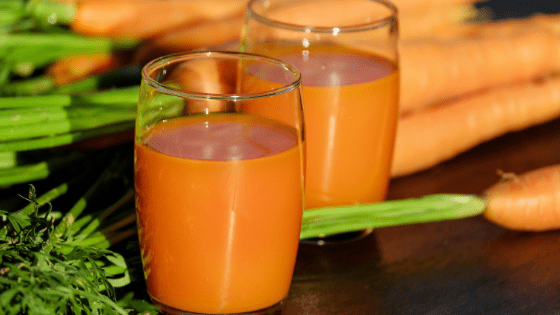 Ingredients to make carrot juice in a blender
Carrots: Two to three large and peeled
Lemon Juice: 3 tbsp (take the juice from around one large lemon)
Ginger: 1/2 inch piece (don't forget to peel)
Water: 1 and 1/2 cups 
Ice Cubes: 1/2 cup
The mainreason for adding lemon and ginger is to infuse some additional flavors to thecarrot juice. Moreover, these ingredients will give the carrot juice a great refreshingfeeling.
Procedure to make carrot juice
First, youneed to start washing followed by drying the carrots. Remove the ends of eachcarrot and then start peeling the same. Next, it's time for removing the peelof ginger. Cut the lemon into half to squeeze the juice.
Now, startadding water, ginger, carrots, ice, and lemon juice to a blender (high speed).Keep on blending for around 60 seconds as long as you're getting a liquidmixture.
Optional Step
Now,whether you want to strain followed by squeezing the carrot juice depends uponyour choice and the blender. If you want to do it, take a nut milk bag. As aresult, you will get carrot juice of smooth texture.
Are yougoing to do this step? Then, you should remember to use a half cup of wateronly in the second step.
Some Important Tips
Thefollowing tips will help you with the carrot juice making process:
Don'tforget to peel all the carrots unless you'd get a grainy texture in your juice.
It's recommendedto use a high-speed blender. Thus, you'll geta smooth-textured juice. Also, you can avoid the straining process later on.
You mightwonder the importance of ice cubes in the carrot juice. They help to make thejuice cool throughout the blending process. It's because excessive heat canalleviate the essential nutrients.
Now, you caneasily prepare carrot juice to start a healthy morning.