Exploring the world of cooking is something that is never tiresome. Using the appropriate kitchen appliances is a must to achieve the spot on dish. Blenders have become a primary need in kitchen as it is easy to handle and less space consuming. New age blending techniques gave rise to multiples blenders in market. Evaluating the top blender is the objective.
Having so many blenders in the market, it raises the confusion of buying the right one. Various points to consider would be motor power, speed, quality of the blend etc. To make the decision easier, let's compare magic bullet blender and Vitamix blender to arrive at an honest conclusion of which one to choose.
Magic Bullet Vs Vitamix  Overall comparison
Magic Bullet Blenders
Up to 0.335 HP motor
2000 max RMPs
Dish washer safe
Multiple cups included
Cook book included
Various options for colors
Vitamix Blenders
Up to 2HP motor
37000 max RMPs
Dish washer safe
Multiple containers included
Various controls for superior blending quality
Blenders are most commonly used for blending items in small portions to serve 1 or more persons. It can used to blend veggies, fruits, crush ice, make solid dips (hummus, mayonnaise etc.)
Nutribullet RX vs Vitamix 5200
| Name | Product Link | Wattage | Capacity | Warranty |
| --- | --- | --- | --- | --- |
| Nutribullet RX | | 1700 watts | 45 ounce | One Year |
| Vitamix 5200 | | 1400 watts | 64 Ounce | 7 Years |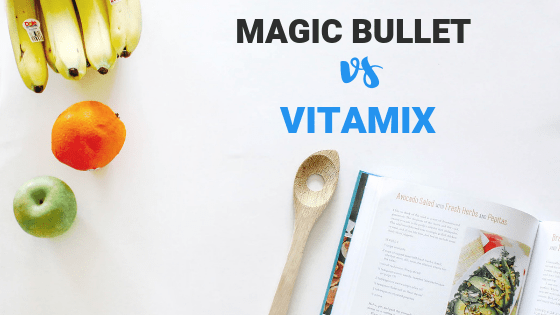 Which Blender is better? – Vitamix or Magic Bullet
| | | | | | |
| --- | --- | --- | --- | --- | --- |
| Blender/Model | HP (motor) | Blades | Container Size | Unique Feature | Price Guide |
| Magic bullet | 0.335 HP | 2 stainless steel Cross blade and flat blade | 18 oz. tall cup, 12 oz. small cup | Ideal for small servings and easy to clean | Low |
| Vitamix | 2 HP | 4 stainless steel laser cut blades | 64 oz. | Can bring frosty items to hot in short time | High |
Which blender blends the best? Magic Bullet vs Vitamix
The magic bullet blender is visibly less powerful than the Vitamix blender. The blades of magic ninja are comparatively less sharp that the Vitamix and therefore activities like crushing ice and better blending uniformity are poorer.
Vitamix blender has a high and low speed option on its blender which helps in maintaining the desired consistency. It also has a tamper option which is used in case of frozen fruits, crushing ice and other solid items.
Magic bullet on the other hand only has an on and off option added to its blender. With no other controlling options, a constant personal supervision is required to attain the necessary output.
Quality and variety are the crucial points to consider while deciding the right blender. Given the above comparison, Vitamix clearly provides better quality and various textures. With better capacity and high RMPs, Vitamix blender provides a significantly better result.
Winner – Vitamix Blender
Comparing the power
Vitamix runs on 2 HP motor. With over 3700 RMPs it assures ultimate quality or the output needed. Speed modification is an added advantage as it helps in achieving various consistencies based purees and smoothies.
Magic bullet however operates on 0.335 HP motor which is drastically less powerful in comparison to Vitamix. Less power means more time consuming and poor blending capabilities. It can blend the ingredients but cannot reach the standard of Vitamix. Therefore, Vitamix is at advantage here.
Winner – Vitamix Blender
The container options
Magic bullet has two types of containers 18 oz. tall cup, 12 oz. small cup. The containers are made of plastic. Unfit to sustain extreme temperatures, it cannot be used to turn cold items to blend or make it hot. It looks sub-standard when compared to decent looking glass jar. However, plastic jars are lighter and can be handled easily. As the containers are small, these can be used for serving only a single person.
Coming to Vitamix it has 4 jars, 64 ounce, 48 ounce, 32 ounce and another 32 ounce container. These are specifically used for distinctive purposes. All the jars are made of glass and can sustain any temperatures. The jars are big and can support more than 2 servings or 2 persons. The containers are sturdy and are safe to operate as it locks itself in the lever.
It is clear that Vitamix is the better one.
Winner – Vitamix Blender
Which blender is easy to use?
Magic bullet blender only has an on and off button which isn't difficult to control. The blender in itself is self explanatory with no further requirements such as sample manual.
Whereas Vitamix has high and low buttons along with a tamper button for high temperature ingredients. The blender is refined when it comes to usage and extremely customer friendly.
Even with higher controls than magic bullet, Vitamix is easy to use and satisfies varied blending needs without any constraints.
Winner – Vitamix Blender
Which is easier to keep clean?
Magic bullet comes with plastic jar as specified earlier which is light weighted and dish wash safe. Getting cut and fear of breaking it is nil. However, plastic isn't a safe option for long lasting use. If not cleaned properly it may result in contamination. Usage of glass is much healthier than plastic
Vitamix comes with glass containers which are again dish washer safe. The jar stay sterilized if used in the right manner.
Winner – Magic Bullet Blender
Price Comparison
Magic bullet blenders are comes around $50. Even if you go with higher end magic bullet blender ( like magic bullet nutribullet Rx) that will cost you maximum $150.
But when you goes for lower end vitamix blender it will cost you around $300 and higher end vitamix blender will cost you around $1000. According to price Magic bullets is clearly winner.
Vitamix blender is perfect if you want to blend some heavy stuff like ice. If you are searching for a regular blender for you daily protein shake like stuff then goes with magic bullet.
Winner – Magic Bullet Blender
Keeping the above comparisons in mind, Vitamix is superior in all aspects and should be chosen one.