The college-going students whether they're studying in the classrooms or studying online need a cup of coffee in the morning to kick-start their day. And as we all know there's something about the world's greatest minds and coffee. Therefore, this beverage called "coffee" is incredibly popular among the college crowd. And why not, after all, it tastes nice and gives the caffeine-kick to the sleepy college students when they need it the most. Also, coffee is often serving as an excuse for friends to hang out and have a get-together.
So, if you're living in some hostel or dorm room then why not get yourself your own coffee maker instead of buying a coffee from outside each morning? And, if you own a coffee maker then you will be able to make yourself a cup of tasty coffee whenever you feel like it. However, if you buy the best coffee maker after having great research then you can have an amazing taste of your coffee which can be even better than the beverages sold in your local coffee shop.
But, where would you find the coffee machines that fit all you needs? Five of them are reviewed below, so read our reviews and we hope you'll be able to pick your ideal coffee maker for sure.
Best Coffee maker for Dorm Room
Chulux Single Serve Coffee Maker
The CHULUX Single Serve Coffee Maker with Removable Drip Tray is here to get a single cup brewing your way. It is compatible with most the k-cups. Moreover, you can use a reusable filter as well to fill it with your own ground coffee. This coffee maker comes with an automatic shut-off function. So, you need to touch one button and the light will flash during the heating process and will be on during the brew cycle. Then it will shut off automatically after brewing and the light will be off so that you can understand that your coffee is ready. So this feature ensures safety as well.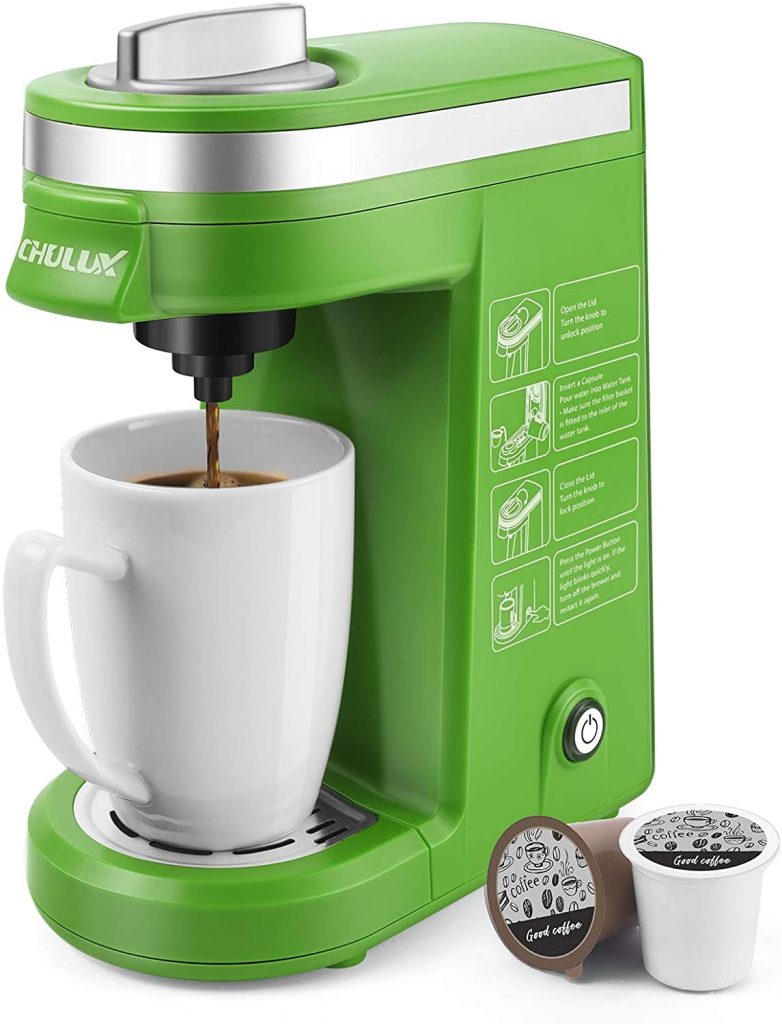 Moreover, it is designed with an upgraded and compact design as it comes with the stainless steel housing and a built-in 10 Oz. water tank which consists of water level marks. Moreover, it has been equipped with the dustproof filter basket, concealed needle inside lid assembly as well as the removable drip tray. However, it heats the water upto a perfect temperature which is required to provide an ideal flavor results. It is easy to clean because there's no mess left to clean and no waste. And lastly, this perfect coffee maker comes up with a space saving design si it will fit into minimal space such as your dorm room.
Features:
Coffee maker is perfect for brewing hot and cold coffee
Makes 1 cup in an instant
Enjoy espresso with this machine with a removable basket filter
Shuts off automatically for a safe operation
Ideal for making a perfect pot of Italian coffee
Single Cup Coffee Pod Design
10OZ Water Reservoir with Gradient Scale & Filter Basket
Quick Brew and Auto shut off System, &
Hassle-free Cleaning
Nespresso Inissia Original Espresso Machine
Nespresso VertouPlus Coffee and Espresso Maker by De'Longhi is a great coffee maker for you all. It utilizes Nespresso's patented Centrifusion technology which you must know can beat at the heart of every smooth and rich cup of coffee. Moreover, this technology ensures the maximum and optimum extraction for giving you the coffee that you've never had before.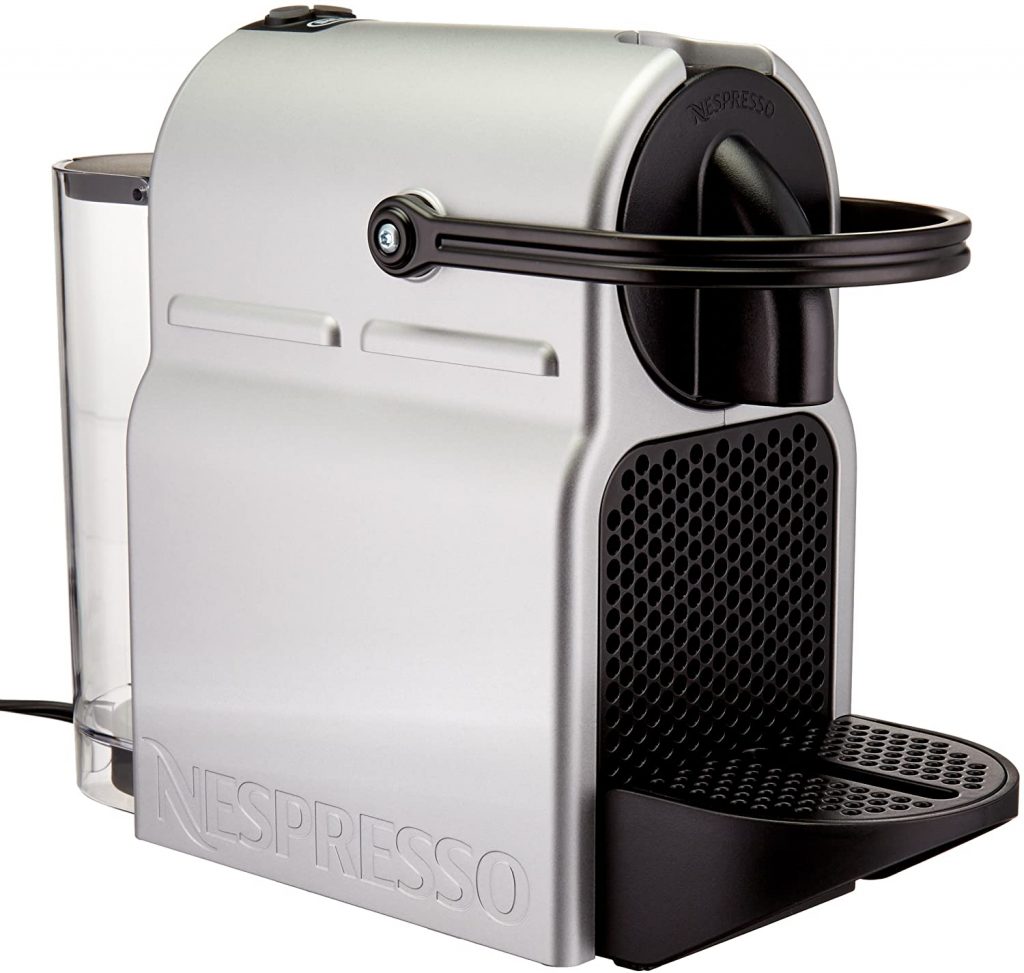 And, the most impactful feature of this machine is that the water tank of this coffee machine can be refilled up to 60oz. That means, you can prepare several cups of coffee before refilling the tank. This is great for dorm room use, especially when you are coffee lover and need a coffee every now and then.
Moreover, with a compact, lightweight design, and an ergonomic handle, this coffee maker is a smart little machine that will make your life easier and will fit perfectly into any interior design. However, it is simple to use while offering you with an impeccable barista-style coffee every time. It is simple and has one-touch operation and a fast heat-up time. That means the water will reach to the ideal temperature in just 25 seconds. The energy saving mode that automatically switches off after the coffee is ready will definitely make your life easier.
So, this ultimate at-home espresso maker brews a delicious espresso with push-button makes barista-style coffee while taking up minimal space, and being a user-friendly, one-touch operation.
Nespresso by DeLonghi Inissia features a sleek, compact design that allows you to easily make an authentic espresso in the comfort of your home
Compatible with Nespresso capsules only
Easy insertion and ejection of capsules
Includes 16 assorted capsules
Folding cup tray accommodates taller glasses
Removable 24 oz. water tank
Brews a cup in less than a minute
25 second preheating time
2 programmable buttons for espresso and lungo preparation
Energy-saving automatic shut-off
Patented extraction system with 19 bars of pump pressure
Keurig K-Mini Coffee Maker
The Keurig K-Mini single serve coffee maker is designed with a sleek design with matte finish and it is less than 5 inches wide. So, it is the perfect size for your dorm room isn't it? Moreover, if you're not as good as making a coffee then don't worry, the K-Mini brewer is very simple to use. What all you need to do is to just add fresh water to the reservoir and pop in your favorite K-Cup pod while pressing the brew button and you'll be able to enjoy fresh brewed, delicious coffee in minutes.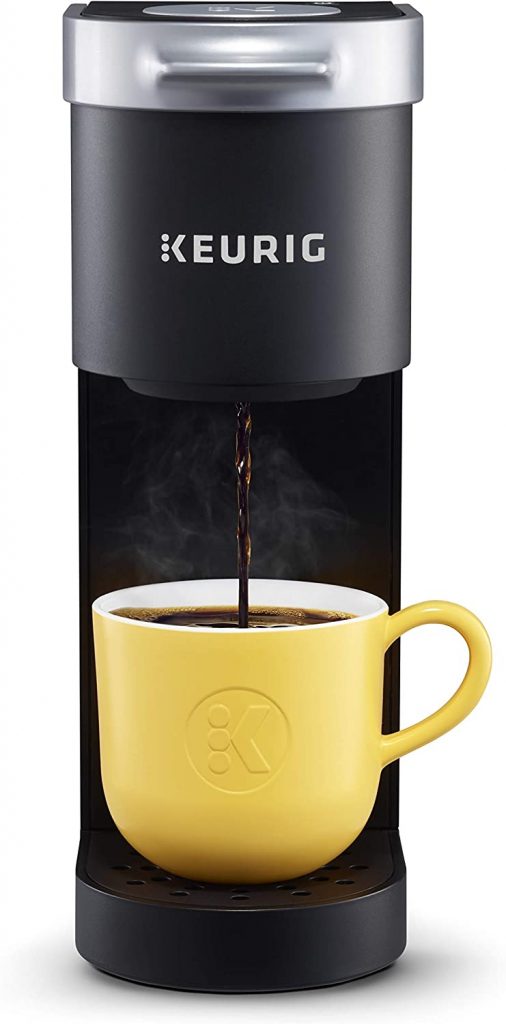 You can also choose from hundreds of delicious K-Cup pod varieties for enjoying 6-12oz of your favorite coffee, tea, cocoa, or any other iced beverage. However, with single cup reservoir and cord storage, this coffee maker is the portable brewer. So, it makes you get perfect and great coffee anywhere. And the best part is that, the K-Mini coffee maker is available in a variety of matte-finish colors. Let's look out at some other interesting features.
Features:
It fits anywhere as it is less than 5 inches wide, so it is perfect for small spaces.
It allows you to brew any cup size between 6 to 12 oz. So enjoy as much coffee as you want.
It is just one cup reservoir so you can add fresh water for each brew.
It is fast as it makes coffee in minutes and comes with cord storage which is given for easy transport and tidy countertops.
It also has travel mugs up to 7.0 inches tall that holds a full accidental brew for easy cleanup.
It is energy efficient as the auto-off feature turns it off after 90 seconds of your last brew which helps you save energy.
And lastly, the sleek simplicity meets modern style, the K-Mini coffee maker is available in a variety of matte-finish colors.
BLACK + DECKER Coffee Maker
This is a 4-in-1 coffeemaker that brews into a standard mug or a tall travel mug or a 5-Cup carafe. Moreover, it works for pour over coffee. However, the adjustable stand let you brew your cup of coffee in versatility and the unique & removable brew basket allows you to control the strength of your coffee.
And you know what? This improved carafe has been designed to cater to you the comfortable handling and drip-free pouring. The lid is also removable for easy cleaning. So, this BLACK+DECKER Coffeemaker is ideal for an active and on-the-go lifestyle. One specialty of this brewer is that, your coffee brews directly into a 15-oz. stainless steel thermal mug which can fit most of the car cup holders.
Moreover, it is equipped with the permanent grounds filter which is compatible with coffee grounds as well as pre-packaged soft pods. However, in addition to all the above factors, it's easy to rinse clean in the sink. Also, the one-touch operation delivers the morning coffee you need in no time with a compact design which is perfect for dorm rooms.

Features:
It comes with the 15-oz. stainless steel travel mug which is perfect for taking your daily cup of coffee on the run and it also fits in most car cup holders.
The coffeemaker is automatic as it turns off immediately after brewing. So, it gives you peace of mind if you head out the door.
Moreover, you have no need to buy wasteful paper filters because the mesh metal filter works with grounds or soft pods, as well as these are easy to rinse clean.
Personal Coffeemaker
It comes up with one-touch Operation. So, with just one touch the brewing will begin. So, there's no waiting around for a full carafe to brew.
You can brew directly into the mug which is dishwasher-safe.
 Optimal Brewing Temperature that means water is heated to the perfect brewing temperature for ideal flavor results.
Chefman InstaCoffee Single Serve Coffee Maker
The InstaCoffee Single-Serve Coffee Maker allows you to pipe a hot cup of coffee in an easy method to pour, push and go. So, with this coffee maker, you can make fresh coffee in 30 seconds and exactly as you like it. However, the sleek and compact design takes up just a little counter space so it can be stored easily. The size of this brewer makes it the perfect coffee machine for your dorm or hotel room.
Moreover, the InstaCoffee brewer is equipped with a self-cleaning mode which makes it super easy to prevent and remove the mineral build-up. However, the rubber drip tray is also removable for providing you with an easy cleaning between uses.
It brews a coffee in no time as it allows you to get fresh coffee at home in 30 seconds from start-to-brew with this single-serve coffee maker. Moreover, depending on your preference, you can experiment with less water for getting a bolder flavor or more water to have a milder taste.
Additionally, you can enjoy coffee house quality in your coffee which is even fresher and faster with this powerful yet compact coffee maker. That means, with the one-touch operation, you can quickly enjoy up to 14 oz. of coffee.
It is compactly designed, as the narrow profile fits and stores anywhere and it can be used to brew coffee on your vacations or trips, or in dorms. However, it is tall enough to use with most 14 oz. travel mugs.
Best Coffee Maker for Dorm Room – Buyer's Guide
So, whenever you go for buying a coffee maker then you must consider the things that make a brewer good. Well, obviously, first you need to check that it can brew you an incredibly tasty cup of coffee. But, if it's taking too long then probably you might get annoyed. So, you should buy a coffee maker that can provide you with your caffeine hit as soon as you wake up. So, your coffee maker also needs to be fast.
Moreover, the coffee machine also needs to be easy to use because if you're not a morning person then probably your brain won't work at its highest speed without a caffeine kick of morning coffee. But, with your own coffee maker to get that cup of coffee, you need to make it. And, it can be a problem if the coffee maker is too complicated to use. To avoid this, you need a machine that can start brewing your cup of coffee with a single press of the right button.
Moreover, your coffee maker also needs to provide you with different brew size choices. It should also be energy efficient and not so noisy, and of course, it should be durable and reliable. However, despite of having all the above features, it also shouldn't cost too much. After all, you're a college student who would probably can't spend so much only on a coffee maker.
Conclusion:
So, these were our top picks for the best coffee maker for dorm rooms. We hope you'll enjoy reading this guide and it will help you choose your best pick of coffee maker for your dorm room as per your specific requirements. Stay tuned for more such informative reviews and more!!!