If you are the one who totally got bored with your Mr. Coffee pot that you must be having for the last decade then finding the right machine to give you the perfect cup of coffee is crucial for you. But, at the same time finding the perfect coffee maker can be challenging as well. However, there are some coffee machines such as Ninja Coffee Makers which are superior to all of their counterparts. And, this is because Ninja knows the science behind a good coffee. Hence, it has been equipped with advanced brewing technology which has very much to offer for all the home users.
And guess what, you would never set your foot in a coffee shop again because these Ninja Coffee Bars are going to fulfill and satisfy all your coffee needs at your home only no matter whether you want to drink it strong or frothy or iced. Moreover, with affordable prices and cool features, Ninja coffee makers are the best coffee makers for home use.
So, no matter whether your morning go-to is a classic drip or you need something extra strong or a latte, cold brew, hot tea, or anything else in between you'll find a Ninja coffee maker that will exactly match your needs. Here in this review guide, we are going to let you through many of our favorite Ninjas in order to assess their strengths and weaknesses. So, by going through this guide, you will be able to choose the one that will best suit your brew preferences and style. Read further this Ninja coffee bar reviews because it will give you a comparison so that you can choose the best model for your lifestyle.
Best Ninja Coffee Maker
Ninja Hot and Cold Brewed System
This Ninja Hot and Cold Brewed System offer you a vast array of coffee and tea options such as smooth and naturally sweet cold brew in less than 10 minutes or a frothy chai latte or cappuccinos. However, you can brew multiple brew sizes i.e., a pod-free single cup or a travel mug or all the way up to a full Carafe.
Additionally, the hot brewing of this system lets you enjoy a bold but flavorful cup of hot coffee or tea. Plus, you can also brew over ice in order to create full flavored and refreshing iced beverages. Hence, you are free to brew your favorite style of tea no matter whether you're using any tea bags or loose leaf because this brewer has the specially designed tea brew basket that gives you that perfect tea every time.
Plus, this unit equips an auto IQ one-touch intelligence technology along with a built-in frother that turns hot or cold milk into a silky smooth froth in seconds. And, you can get it with nothing more than the press of a button.
Firstly, this brewer has got coffee and tea brew settings. That means, the brewing technology of this offers an array of coffee and tea options.
Plus, it also allows you to cold brew your coffee and tea. SO, you are allowed to brew over ice at a lower temperature for getting that smooth and naturally sweet flavor in just 10 to 15 minutes.
However, this unit got a smart basket recognition feature. SO, this system can recognize the basket and displays coffee or tea drink options.
It equips 6 Brew Sizes. That means, you can brew anything from a single cup to a travel mug size to a half carafe or full carafe in your own ninja coffee maker.
Plus, it let you make 5 Brew Styles where you can choose your coffee strength with Classic, Rich, Over Ice, Cold Brew, or Specialty.
Ninja Specialty Coffee Maker
Now you can bring your favorite coffeehouse to your home only with this Ninja Specialty Coffee maker. Here, you can combine the super-rich coffee concentrates with your favorite hot or cold frothed milk in order to create delicious coffeehouse-style drinks and yes you can enjoy the most flavorful Iced Coffee that never tastes watered down that too at the comfort of your home only. Plus, you are allowed to brew anything from a single cup to a half carafe or a full carafe, and that too by using your favorite grounds, yes there are no pods required.
As you can see in the name, it is a specialty brew. That means, you can brew super-rich coffee concentrate which you can further use to create some delicious lattes, macchiato, cappuccinos, and many other coffeehouse style drinks.
With this ninja coffee brewer you can even make iced coffee. Hence, you can brew fresh over ice for getting that most flavorful iced coffee which you never watered down.
Plus, it allows you to choose from available 6 brew sizes. So, you can brew anything from a single cup to a travel size cup to a half carafe or a full carafe in your coffee maker only.
Further, it equips a fold away frother that is helpful in turning the hot or cold milk into silky smooth froth.
The cord length of this unit is 2.5 feet and it is a SCA certified home brewer. Plus, it is styled with a glass carafe.
Ninja CE251 Programmable Brewer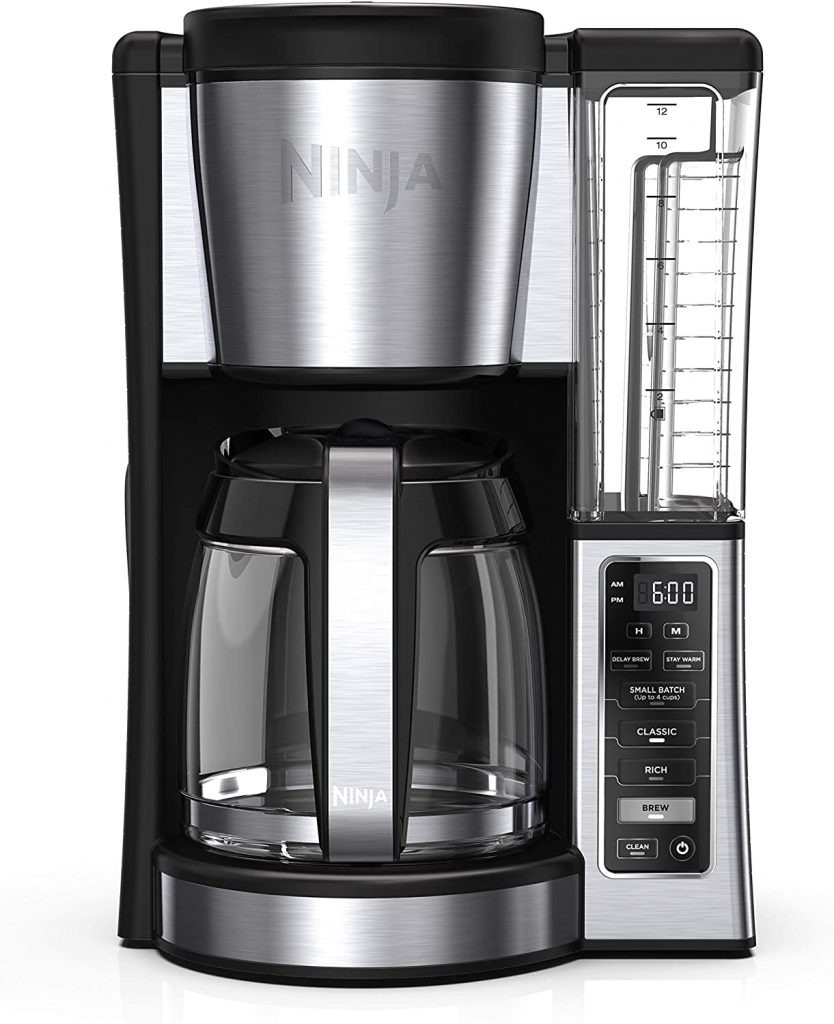 This model of Ninja Coffee brewer is a 12 Cup programmable Coffee maker which comes up with custom brew strengths as well as with a hotter brewing advanced boiler that allows you to make hot, flavorful and never-bitter Coffee. However, from a small batch i.e., 1-4 Cups to a full carafe, or from classic coffee to rich strengths coffee, you can make anything while expecting the same great taste. So, it is here to let you enjoy that ultimate convenience with a
24-hr delay brew system as well as an adjustable warming plate, and a removable water reservoir.
It equips a hotter brewing technology and an advanced boiler for providing you with that perfectly hot cup of coffee. It also has an adjustable warming plate that keeps your coffee hot up to 4 hours that too without burning it. Plus, it auto-shuts off after 2 hours and has a flavor straw. This also circulates you coffee while brewing so it can ensure that every cup of coffee is just as hot and flavorful as the next one.
It has a removable water reservoir and a convenient pull-away design that allows you to fill the water reservoir without making a mess. Plus it comes up with a 24-hr delay brew so you can program your brewer up to a day in advance with this 24-hour programmable delay brew.
No matter whether you need a classic or rich coffee, your each brew will be flavorful and never bitter with custom brew strengths.
This unit has got a hotter brewing technology that provides you with an advanced boiler for letting you get a perfectly hot cup of coffee.
You can also wake up to hot coffee as it equips a 24-hour programmable delay brew that allows you to prepare your brew up to a day in advance.
However, you can also keep your coffee fresh and flavorful up to 4 hours with an adjustable warming plate.
And lastly, it has the 60-ounce removable water reservoir that you can conveniently carry to your sink for easy filling.
Ninja CF090CO Coffee Bar w/Glass Carafe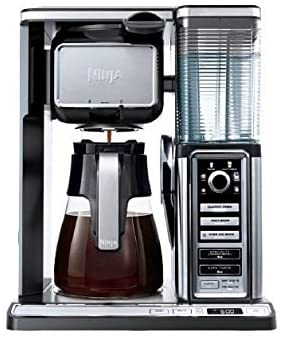 With this Ninja CF090CO Coffee Bar, you can brew your favorite hot beverages quickly and easily. It also has an Auto-iQ Brewer with Glass Carafe which features a multi-serve dial. This multi-serve dial lets you choose a size for a cup or a travel mug or a half carafe or a full carafe. Plus, this model of coffee maker has got a thermal flavor extraction technology that allows you to dial up the flavor richness level as well as to choose a brew from Classic, Rich, Over Ice, or Specialty.
However, the Auto-iQ One-Touch Intelligence is made to draw just the right amount of water that is needed from the reservoir. It again depends on the brew size as well as on the brew type that you've selected. Plus, the removable water reservoir of this brewer features an easy-to-hold grip as well as a flip-top lid for providing you with a quick and easy filling. And, guess what, you can even set this coffee bar machine to automatically begin brewing up in advance up to 24 hours in advance.
This Ninja Coffee Bar Auto-iQ Brewer with Glass Carafe equips a thermal flavor extraction.
It also gives you some options to choose from i.e., Classic, Rich, Over Ice and Specialty brew
It has also got a removable water reservoir with auto-metering as well as a light indicator which turn on when cleaning/de-calcification is needed
Plus, this Ninja Coffee bar brewer has a programmable delay up to 24 hours along with having a warming plate and glass carafe
It equips a drip stop to pause flow and a drop-down cup holder. Plus, it includes a quick start guide with a 20-recipe coffee inspiration guide.
However, a multi-serve dial allows you to choose the size for a cup, travel mug, half carafe, or carafe.
Lastly, a 43 oz. Stainless Double-Wall Thermally Insulated Carafe has been given to this unit that traps in the fresh coffee flavor and keeps your coffee hot for up to 2 hour.
Conclusion –
Deciding which of these machines is best just depends on your taste. For instance, for the coffee lover who enjoys mixing things up, the Hot and Cold Brewing System that I reviewed at the first place will satisfy their craving for coffee adventure. And, if you are someone who's looking for a snazzy brewer, but who doesn't really enjoy a cold brew, the Ninja Specialty Coffee Maker will suit your needs perfectly.
However, we hope this review guide will help you deciding which ninja coffee brewer to buy. We will be taking more such review guides in future. Till ten stay tuned with us!!!