Are you passionate about cooking? Then, having cutting-edge appliances in the kitchen can make your journey a lot easier. Day-to-day cooking needs loads of preparations that need great investment of time. Hence, you should have a professional helping hand to lighten the workload. Do you agree with me? Then, the post about the vitamix 7500 review is for you.
Vitamix 7500 Review
A top-class blender is a dream of many people. If you do belong to this group, you can consider Vitamix 7500 to cater to your needs. The impeccable quality and brilliant features are all you need to streamline your kitchen chores.
The top-notch variable speed settings, a spacious blending container, and a remarkable pulse feature will come with this blender. Moreover, a convenience of self-cleaning and best-in-class stainless steel blades makes the 7500 a must-have product.
The robust stainless-steel blades of this feature-loaded blender can work on even stubborn ingredients. That means you will get amazingly uniform results from the beginning to the end.
Whether you are a smoothie buff or soup aficionado, you can expect great efficiency from the Vitamix 7500 blender. This appliance can generate high torque that can convert cold components into steaming-hot servings within a few minutes.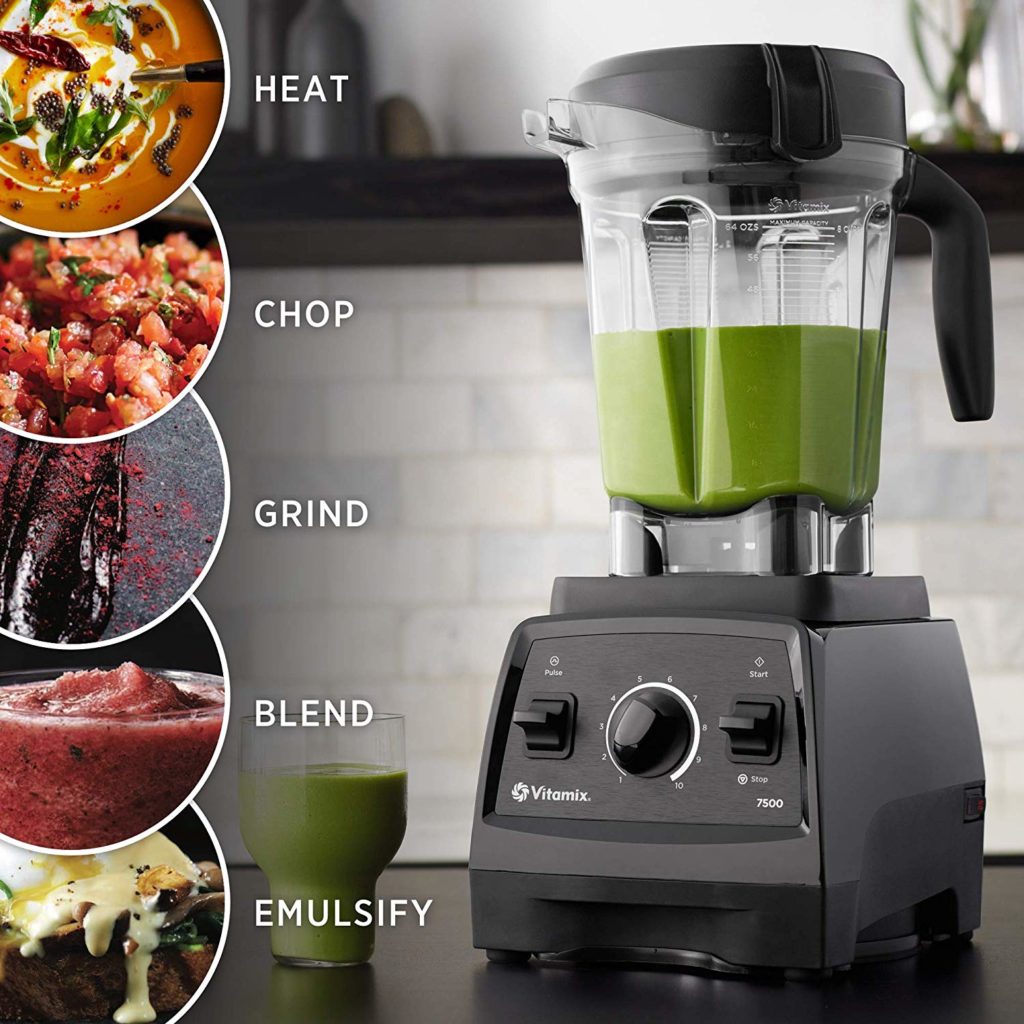 VItamix 7500 Blender Features
A Brilliantly Running Motor:
A top-notch blender must feature a powerful motor and you can expect the same from the Vitamix 7500. As a result, you will get piping-hot servings in less time.
Naturally, running at great speeds can produce massive energy, resulting in loads of heat. However, the 7500 comes with a motor that can retain a uniform even temperature. That means it can prevent itself from any sort of untimely damage. It is indeed a great feature to ensure the longevity of this blender.
Spacious Container:
The Vitamix 7500 blender is an ideal option for the entire family. The massive 64-ounce container makes it possible to make a large batch every time. As a result, you can prepare meals for your family in one-go without taking the help of multiple rounds.
Cutting-Edge Programs & Speed Settings:
The base unit comes with a brilliant knob accompanied by the ten variable speed controls. Moreover, you will also get the on/off switch. Moreover, a switch is also there for toggling the pulsing operation. However, the unit does not feature any pre-set program. That means you need to go for manual blending.
One of the key benefits of the Vitamix 7500 blender is the ten variable speed controls. When it comes to making a delectable salsa, chopping ingredients, or adding consistency in a soup, the low-speed option will help you. Moreover, the low-speed setting will also help to eliminate bubbles from smoothies.
Top-Notch Functionality & Impeccable Versatility:
Take the help of the Vitamix 7500 blender and you can prepare loads of food items in less time.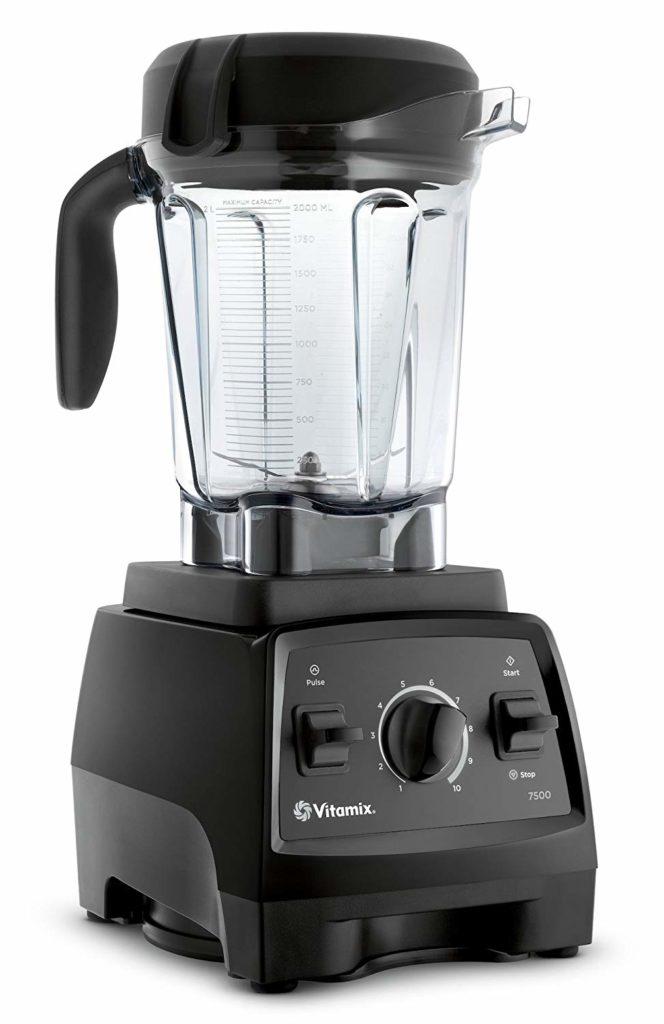 What you can do with vitamix 7500 blender ?
Smoothies:
Do you rely on smoothies on your day-to-day life? Then, make the process a breeze with the Vitamix 7500 blender. It can prepare scrumptious milkshakes or shakes from your preferred fruits or vegetables.
Moreover, the blender also made it possible to incorporate hard cheese, frozen food blocks, or nuts. The 7500 can operate at high speed and thus it can pulverize raspberries, blueberries, strawberries, blackberries, and chia seeds. As a result, you can prepare delectable smoothies as well as shakes. No grainy seed consistency can interrupt your journey. Enjoy silky, velvety smooth delicacies.
Pureeing:
The Vitamix 7500 blender can prepare proper puree with ease. Even you can add stubborn vegetables to get thick purees for your recipes. Now, pureeing chickpeas or dates has become a breeze with this top-class blender. However, you need to make use of small batches to get thick purees. Hence, are you ready to get a great homogenous blend?
Chopping:
The 7500 blender can chop ingredients on either pulse or low-speed. The convenient variable speed controls have streamlined the entire operation. You will get perfect consistency in each operation. Moreover, the blender can also make lip-smacking sauces and dips on higher as well as medium speeds.
Grinding:
The wet blade of the Vitamix 7500 blender can grind various ingredients, such as flour, coffee beans, and nuts. Moreover, you can also expect it to mill grains, flour, or kernels with ease. Furthermore, the blender can also prepare a dough with ease. On the contrary, the dry blade comes with more efficiency. That is why you also need to think about buying it.
Easy To Clean:
Moreover, you can also clean your blender super easily. It just needs a mix of warm water and dish soap (one drop). And voila! It will complete cleaning itself within 30 to 60 seconds.
An Incredible Low-Profile Design:
The 7500 comes with an elegant low-profile design. As a result, it can slide under most of the kitchen cupboards with ease. Many models feature significant height, which becomes a barrier for them to get compatible with lots of kitchen cabinets.
A Silent Operation:
If you are looking for a blender with a considerably silent operation, you should opt for the Vitamix 7500 blender. A specialized design has made it capable of running around 40% quieter compared to many models. That means you can make a morning smoothie by maintaining a silent ambiance.
Pros
Can convert cold ingredients into steaming-hot servings
Comes with the self-cleaning feature
Aircraft-grade blades
Cons
Expensive
The container is not dishwasher-safe
Wrapping Up
If you are looking for a cutting-edge blender with loads of features & functionalities and amazing versatility, bring the Vitamix 7500 blender today!
Disclaimer
Kitchentoolsmaster.com is a participant in the Amazon Services LLC Associates Program, an affiliate advertising program designed to provide a means for sites to earn advertising fees by advertising and linking to Amazon.com. Amazon, the Amazon logo, AmazonSupply, and the AmazonSupply logo are trademarks of Amazon.com, amazon.co.uk, amazon.ca Inc. or its affiliates.