Do youreally want to lighten your day-to-day kitchen chores? Yes? Then, you need abest-in-class blender at your countertop.
However, itis natural to get confused among loads of models and designs. You do not needto worry! The post is about vitamixa3500 review and it will help you a lot.
Vitamix a3500 Overview
Vitamix A3500 Black Friday and Cyber Monday deals 2020
As we know black Friday and Cyber Monday is the best time to buy any product. So why to miss Vitamix A3500 black Friday and Cyber Monday deals. Here I listed down the best Vitamix A3500 Black Friday deals for you. Keep in mind, this year's Black Friday sale is started on 27th November, and the Cyber Monday sale will start on 30th November. So be ready to grab the maximum discount on these two days.
Last updated on February 7, 2021 12:01 am
The Ascentseries of Vitamix Corporation is their recent line-up of products. Theseproducts are all about top-notch technologies, great convenience, incredibledesigns, and brilliant innovations. That means you can expect these blenders tomake your kitchen's journey streamlined and enjoyable.
The VitamixA3500 Ascent Series Smart Blenders come with five program settings and they aremeant for different kinds of preparations, such as frozen desserts, hot soups,spreads & dips, etc. The convenience of self-cleaning will win your heartfor sure.
Thefeature-loaded blenders equip with 10 variable speed controls along with atouch screen digital timer. Furthermore, the motor & pulse mechanism comeincredibly powerful here.
Each of thecontrol has come as a touch screen, excluding the variable speed control.Moreover, the appliance also comes with inbuilt wireless connectivity.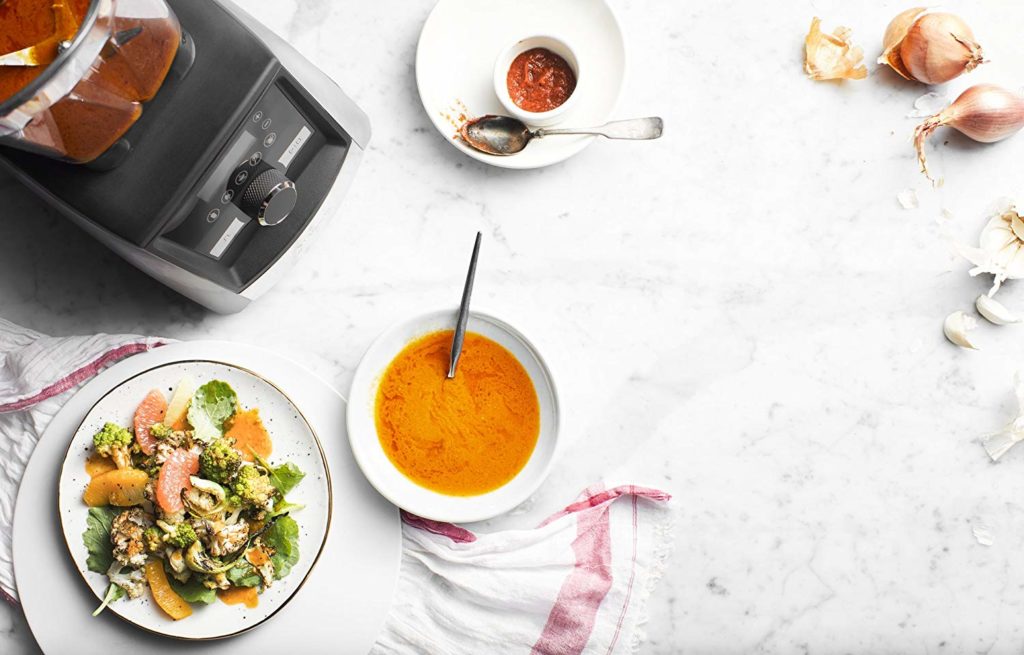 Vitamix a3500 Features and Pros and cons
Program Settings:
Are you asmoothie lover? Then, there is good news for you! You can prepare delectablesmoothies and many other things with Vitamix A3500 by pressing a button only.Moreover, you will also get a tremendously convenient walk-away feature withthis blender. As a result, you can expect to receive consistent results everytime you use this appliance.
Variable Speed, Pulse, And Timer:
Owing tothe A3500, you can control the speed with ease. Moreover, it is also like abreeze to Pulse ingredients to receive desired consistencies. Furthermore, thisbrilliant blender comes with an inbuilt timer to make your favorite dishes withthe ace.
Easy To Clean:
Thecleaning of Vitamix A3500 is extremely easy. You just need to blend a mixtureof dish soap (one drop) and warm water at the highest speed of the blender. Andvoila! It will perform self-cleaning within 60 seconds. Moreover, it does notneed any disassembly.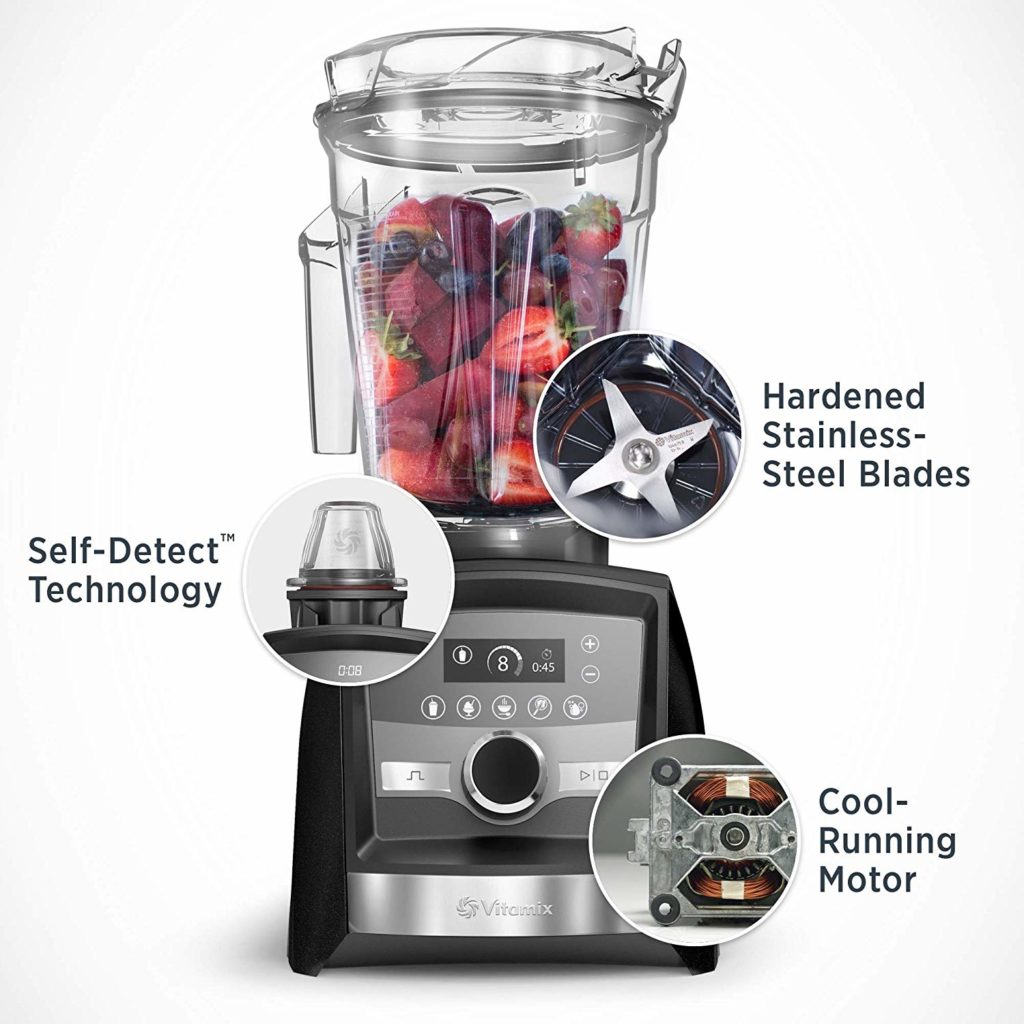 Self-Detect Technology:
The VitamixA3500 comes as a smart appliance. Interestingly, its motor base can detect acontainer size automatically. Moreover, it can also modify program settingsalong with maximum blend times.
Accurate Container Design:
VitamixA3500 comes with an amazing container that can fold back ingredients to itsblades. As a result, you can get smoother blends in less time. It will resultin the incredible Vitamix vortex.
High-Performance Motor:
Vitamix A3500 features a high-performance motor. It can blend heavy powder, frozen fruit, and your favorite greens as well. Even it can convert stubborn ingredients into soothing, smooth blends for many years (since it is a durable product).
Blade Friction Heating:
The bladesof Vitamix A3500 blender can attain high speed and generate great frictionheat. As a result, it can convert cold ingredients into piping hot servingswithin just a few minutes.
Stainless-Steel Blades:
The A3500features laser-cut blades, which can provide top-notch results from thebeginning to the end. Moreover, the blades are durable enough to preventbending as well as dulling.
What Can You Prepare With Vitamix A3500?
Delectable Hot Soups:
Thanks to VitamixA3500 that you can prepare delicious piping-hot soup within a few minutes andwithout using a stove. Moreover, its blades can generate high friction that canbring your favorite soups into serving temperatures in the very containeritself.
Sauces & Dressings:
The A3500 can also prepare different types of dressings, which will make your foods palatable and appease your taste buds. Are you a sauce buff? Then, use your blender in making tomato sauce, pesto, or applesauce within a few seconds.
Spreads & Dips:
Is makingafter-school snacks seem to be difficult for you? Have a sigh of relief, as theA3500 has made it streamlined to prepare delectable spreads and dips. Now, youcan throw a get-together with ease. Making healthy, delicious spreads and dipsbecome easy with Vitamix A3500.
Juices & Smoothies:
Are you asmoothie buff? Yes? Then, the Vitamix A3500 will make an ideal option for you.That means you can prepare refreshing, delectable juices and smoothies withoutany hassle. So, are you ready to get the goodness of vegetables and fruits? Ithink you are.
Moreover,the A3500 makes use of whole ingredients that means you will also get thenutrition of fiber.
Baby Foods:
Owing to VitamixA3500, you can prepare customized baby foods. You just need to arrange things,blend and prepare batches of healthy homemade baby food within a few seconds.
Pros
Abrilliant motor along with stainless-steel blades
Tenvariable speed controls
Amazingpulse function
Touchscreen digital timer
Excludingthe variable speed settings, every control comes as touch operated
Fiveprogram pre-chosen settings contributed to smoothies, spreads & dips, hotsoups, etc
Self-cleaningfunctionality
Comeswith a 64 oz of spacious container
Anamazing blender for preparing smoothies, frozen desserts, batters, dressings,flours, purees, etc
Asee-through container as well as a lead
Mind-blowingappearance
Dishwasherfriendly
Inbuiltwireless connectivity
Cons
Onlyone size of the container is available at the current time
Expensivethan many other blenders
Containerswithout NFC tags from earlier Vitamix models will not work
Wrapping Up
The VitamixAscent A3500 is an ideal option for you if you are in search of an impressive,top-class blender. It is a fabulous combination of blending, easy-cleaning,power, easy-storage, and convenience.