If you are a coffee buff, then youshould have a coffee maker in your comfort zone. However, among loads ofoptions, it is natural to get confused to choose the right one.
Are you facing the same situation? Donot need to worry! This post is about the keurig kselect review. That means you are going to know about Keurig K-Select CoffeeMaker that can make an ideal choice to appease your craving for coffee. Let usstart the discussion now.
Keurig K-Select Review
Keurig K Select Black Friday and Cyber Monday 2020
As we know black Friday and Cyber Monday is the best time to buy any product. So why to miss Keurig K select black Friday and Cyber Monday deals. Here I listed down the best Keurig k select Black Friday deals for you. Keep in mind, this year's Black Friday sale is started on 27th November, and the Cyber Monday sale will start on 30th November. So be ready to grab the maximum discount on these two days.
Last updated on April 8, 2021 2:27 pm
Keurig K-Select Coffee Maker comeswith two brilliant features- Hot Water On-Demand and Strength Control. However,it makes an ideal amalgamation of user-friendly controls and fast operation(even almost instant). That means you do not need to wait for a long time tohave your morning coffee.
If you are looking for a cutting-edgesingle-serving coffee machine, then you can certainly consider this product.Moreover, you can expect a uniform, strong flavor in every cup of coffee.Simply, it is a perfect coffee maker for a home or office.
Keurig K Select Coffee maker Features, Pros, and Cons
Style:
Keurig K-Select Coffee Maker isavailable in four beautiful colors, such as Matte Black, Vintage Red, MatteWhite, and Navy. Since it comes as a sleek machine, each of the colors is greatlycompatible with this machine. And you can choose one, according to your kitchendecor and aesthetics.
Size:
When it comes to size, KeurigK-Select shares similarities with other Keurig models of the present line-up.Since it is a spacious appliance, it needs 9.2" x 11.6" on the kitchen counter.That is why you need to allocate a minimum of 12.5" of clear space to keep itunder the kitchen cabinets.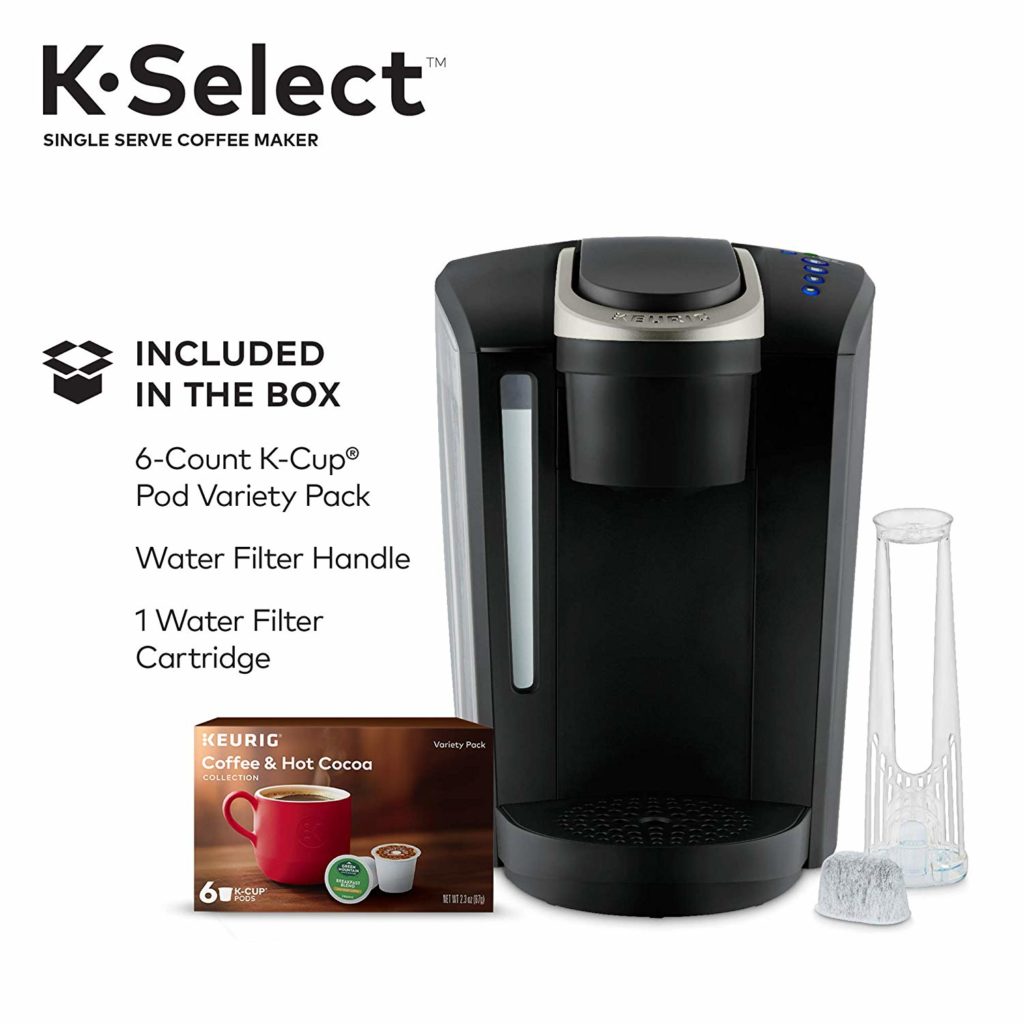 User Interface:
Keurig K-Select comes with abrilliant, convenient user interface. Every brew size features a separatebutton. It is an ideal combination of convenience and user-friendliness.Moreover, this feature-filled machine can make four varied sizes, such as 6, 8,10, and 12 ounces.
Are you an aficionado of strongcoffee? Then, you will have a "Strong" button on this machine. Hence, are youready to get a refreshing taste in your coffee? You can easily turn on thisbutton, placed atop the control panel. Moreover, three indicator lights arethere below the power button, such as Add Water, Auto-Off, and Descale.
If you keep the machine on bymistake, the "Auto Off" feature will come to the picture and startilluminating. It can turn the device off automatically following an inactiveperiod of two hours. That means you can get a sigh of relief.
Removable Drip Tray:
If you want a perfect single-serving coffee machine, then you must look for a removable drip tray in it. However, the Keurig K-Select Coffee Maker has already come with this convenience. It is completely detachable for perfect cleaning.
Moreover, if it is not there, thecoffee maker can hold travel mugs of a maximum of 7.4 inches. That means youcan carry Keurig K-Select anywhere you go and keep yourself refreshed.
Cleaning:
Do you want to spend a long timecleaning your coffee maker? No, is not it? When it is about Keurig K-Select,the cleaning process is easy. Moreover, some particular parts of this machinecall for occasional cleaning. Such areas include the water reservoir, the driptray, and the exterior.
Water Reservoir:
The machine features a spacious waterreservoir of 52 ounces. As a result, you can prepare five cups of coffee at astretch without a need for refilling. It saves a lot of time and streamlinesyour morning regime. Moreover, the reservoir is removable by nature so that youcan refill the machine with ease.
User-Friendly Button Controls:
As a user, you just need to add a podand choose a convenient cup brew size. And voila! Get ready to have a fast,refreshing, delectable cup of coffee in less time.
Strong Mode:
The Keurig K-Select features a strongmode that can serve the purpose of strong coffee enthusiasts. You just need topress the button before starting the brewing process and you will get arefreshing cup of coffee.
Available at a mid-range price, the KeurigK-Select makes a perfect choice when it is about a single-serve coffee maker.The amazing customizable settings, convenient user-friendly interface, and easycleaning features have made it a top player in the market.
Budget-Friendliness:
The Keurig K-Select comes with somebrilliant additional features within a budget-friendly price structure.Moreover, the customizable option will blow your mind.
Pros
A convenient removable water reservoir
Amazing strong mode
Brew time of less than one minute
Multiple color options
User-friendly interface
Cons
Produces a bit of noise
Spacious countertop footprint
The Bottom Line
Was the keurig kselect review helpful for you? I hope it was! If you are a strongcoffee buff and looking for convenience and amazing features in a machine, Keurig K-Select CoffeeMaker is a perfect model for you.
Hence, why are you waiting for?
Buy Keurig K-Select Coffee Makertoday and keep on pampering yourself with refreshing coffee delights.