Frappuccino is a well-known edible product of multinational company Starbucks. Introduced in 1995 and sold as cold beverage it is a trademark for varieties of coffee. Frappuccino are sold in bottled version and also from vending machines. Its main ingredient is coffee and is blended with ice and various ingredients; like cream, strawberry etc. Colors of Frappuccino vary from dark to light brown in simple coffee versions but in cream versions they may vary from pink, light brown, dark brown, orange or green.
How to make a Frappuccino with help of a blender
Frappuccino is a mouth-watering drink that is appreciated by teenagers and grown-ups equally. It is available in many versions but is available only in outlets owned and authorized by Starbucks. It is not possible to visit such outlets daily and if a person wants it regularly then he must have an answer to the question of how to make a Frappuccino at home. A powerful and professional blender goes a long way in creating a perfect product and hence it is the main equipment in making homemade Frappuccino in any kitchen.
Guidelines on how to make a Frappuccino with help of a blender
Print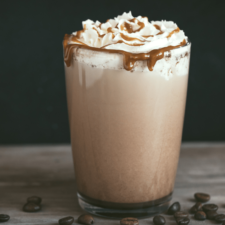 How To Make a Frappuccino At Home With A Blender
---
Author:

Prep Time:

5

Cook Time:

10

Total Time:

15
Description
Frappuccino is refreshing and delicious but expensive. How to make a Frappuccino is a question on everybody's lips. The answer is simple. Go through instructions carefully and one can easily make a delicious cup of Frappuccino. Various ingredients for making homemade Frappuccino are easily available in market and are as follows.
---
1/3 cup

coffee, strongly brewed
Chocolate syrup

1/3 cup

milk
Ice cubes
Sugar according to taste and preference
Whipped cream
---
Instructions
Brewing coffee–

One needs only 1/3

rd

cup of strongly brewed coffee for exact taste of Frappuccino. Plug in a blender and pour extra dose of grounded coffee-beans and now blend it in position ''1'' for few minutes to mix it properly. Alternately one can use espresso double shot or decaffeinated coffee if he/she is having problems with caffeine intake.

Mixing sugar–

Switch off blender and open its lid. Add required amount of sugar and switch it in position ''2'' at medium speed for few minutes so that sugar dissolves completely.

Mixing milk–

Open blender and add 1/3

rd

cup of chilled milk to mixture of sugar and coffee and blend it again on position ''2'' for two minutes. One can use skinned milk, cashew milk or almond milk as alternatives as nut milk has a mild flavour of its own that adds to taste of chocolate or coffee. If a person is looking for dairy alternative he/she can go for coconut milk or soy milk that will provide it with delicious twist. Addition of milk in any form will result in a delicious drink that is rich and tasty

Mixing chocolate syrup–

Open blender and now add 2 tbsp of chocolate syrup to provide a distinctive Frappuccino flavour. If a person likes it strong, one can add an extra spoon of syrup. Switch it in position ''3'' for high speed and blend it for a minute. This will result in a perfectly created delectable drink that will taste like the real thing

Chilling mixture

– Pour this drink in a container and one can refrigerate it for chilling purposes or if guests are coming one can make it beforehand and place it in fridge for chilling it. Once it is extra cold, its ready to use
Mixing ice

– If a person is serving it without placing it in fridge then it is better to add ice cubes as last ingredient before taking out the drink from blender. Switch it on position ''3'' for few minutes to crush ice and blend it in required density.
Pour homemade Frappuccino in tall glasses and serve cold after garnishing with whipped cream, chocolate syrup and a straw
Notes
Special tips while making homemade Frappuccino-
One can add flavours like caramel or mint flavouring to acquire a distinctive flavour and taste
While making for friends multiply it in required numbers
Try spicing it a bit by adding nutmeg or cinnamon
Category:

drinks

Cuisine:

American
Keywords: How To Make a Frappuccino
Advantages and disadvantages of drinking Frappuccino
Frappuccino is a drink that has coffee as its main ingredient. Coffee beans are one of the most used psychoactive substances and even considered addictive. Caffeine intake has both advantages and serious repercussions on health of a human body. It is necessary to know about its advantages and disadvantages if drinking homemade Frappuccino is going to become a habit.
Pros-
A booster– Yes, a cup of coffee contained Frappuccino is a booster for physical performance as it increases adrenaline levels by nearly 12%.
Lose weight– Caffeine intake in Frappuccino helps in breaking of fat cells and these are used as fuel for purpose of training, thus reducing weight.
Mental alertness– Moderate consumption of caffeine in Frappuccino helps in maintaining focus and improving alertness
Cons-
Toxic– Regular intake of Frappuccino can cause sickness, headache or nausea as it contains caffeine. With passing of time it will prove toxic to a human body
Restlessness and insomnia– Drinking Frappuccino with coffee as its main ingredient can cause serious issues like insomnia and restless quality. One must reduce its intake for better health
Health issues– Coffee is said to be harmful as it causes Cancer, Parkinson's disease, cardiovascular problems and depression. Frappuccino has high quantity of caffeine and it will result in all above problems if taken regularly
Frequently asked questions
Is Frappuccino available in single variety or different versions?

Yes it is available in different varieties like Crème, Decaffeinated, Juice blends and Vegan. In bottled version it is available in Mocha, Caramel, Vanilla, Mint Mocha etc.
How to make a Frappuccino without milk?
It is possible to make homemade Frappuccino without milk as one can add its alternative like almond or cashew milk. If a person is allergic to dairy products he/she can add soy milk or coconut milk as alternatives
Is there a solution for avoiding caffeine induced Frappuccino?
A popular and mind-blowing solution for this problem is drinking homemade Frappuccino and twisting ingredients according to an individual taste, preference and suitability. This will help in avoiding health problems and doing what one wants to do.