If you're someone who hates noise but still wants to really enjoy those delicious blended treats. Here we got it for you. With quiet blenders, you can get your food prep perfection while keeping your eardrums perfectly intact. So, if you really don't want to wake your sleeping housemates early in the morning, you crave for a smoothie or so then you must go for any of the following reviews quiet blenders.
As we all know that blenders can be your favorite appliance in the kitchen. And why not, after all, they whip, crush, grind, puree, liquefy, and of course blend anything for you. Additionally, you can use one to make soups for dinner, smoothies for breakfast, and frozen treats for dessert. But for all the work a blender can do, there is one thing that isn't very good about the blender is the noise they make, right?
But noise is not an issue anymore because not all blenders are jump-from-a-deep-sleep loud. In fact, several companies have put a great deal of effort into making quiet blenders. Also, there are many top appliance brands that have cottoned on to this issue of making loud noises and hence they have made blenders especially for sound-sensitive people. Some of these blenders have protective shields to smother the sound, whereas others have quietness built into the motors themselves.
So, these quiet blenders can allow you to make a morning juice or blend up a strawberry sauce even before anyone else has awakened in your house because it won't wake them up in the process. Here, we're going to write about the best quiet blenders that you can buy right now. Each one of the reviewed items has noise-reducing technology which makes them a great buy if you're looking for something that works without vibrating the whole house.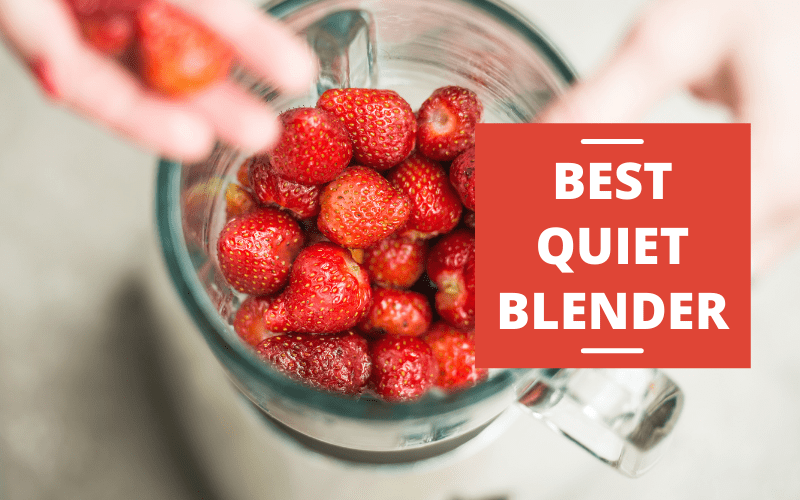 Best Quiet Blender
Blendtec Professional 800 blender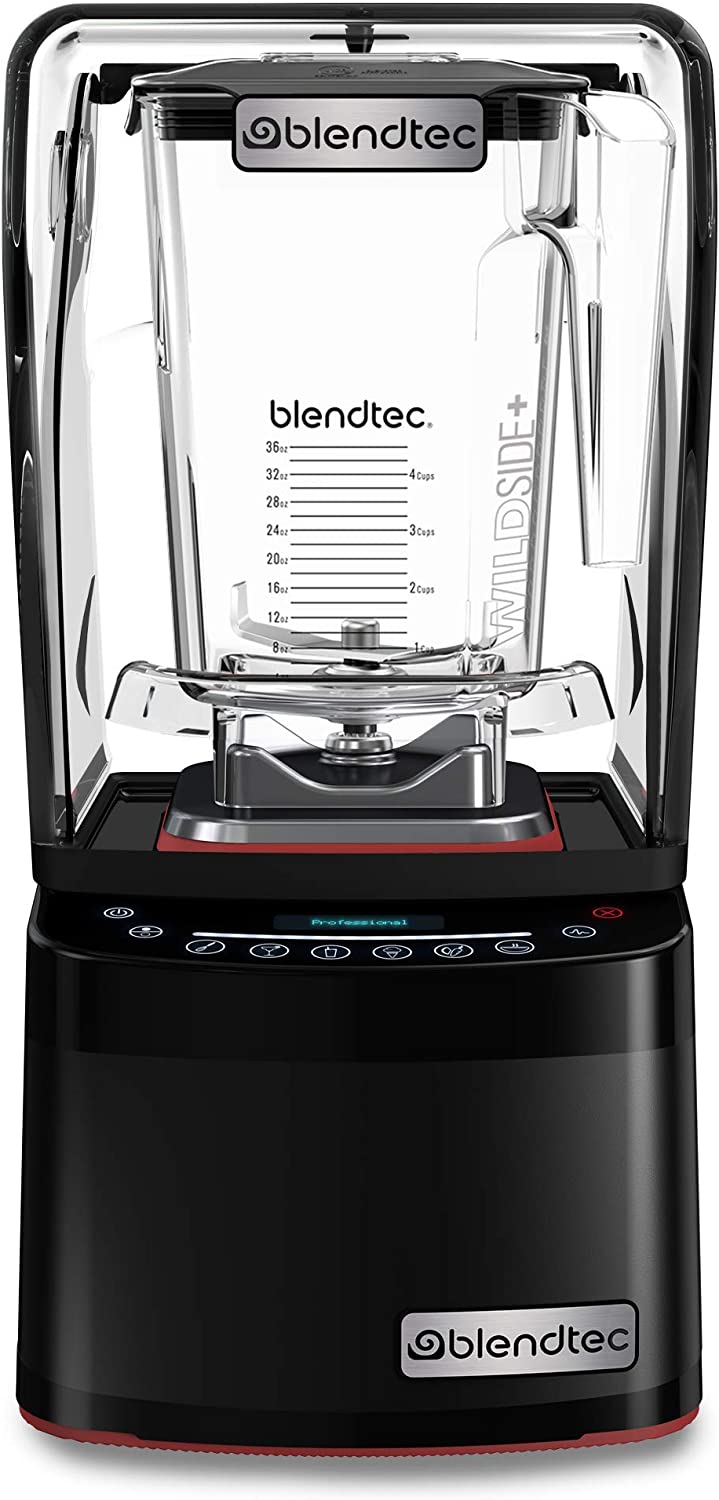 The Blendtec Professional 800 blender proves has industrial-strength power but without having industrial-strength noise. Moreover, it has sleek design with a sealed sound enclosure. The stealth technology employs sound dampening along with airflow innovations so that you can continue your kitchen conversations while making any of the blended treats such as margaritas, blending batters, & smoothies etc.
The blendtec blenders are built to the highest professional standards as it contains blades which are 80% thicker and 10X stronger than other blender blades. Moreover, there is no tamper or plunger needed.
It equips a professional-grade countertop or you can say it is an in-counter professional blender with 1-touch timed and pre-programmed cycles for the juicer, ice cream maker, mixer, smoothies, shakes, soups, crushed ice, and self-cleaning
It has preprogrammed blend cycles with pulse for almost all recipes. So, you can use specific cycles to make anything whether it is a smoothie or fresh whole juice or cappuccinos, soups, margaritas, bread dough, sauces, dressings, and much more.
Moreover, this professional 800 operates at 11 speeds. It also has a touch slider which offers ultimate precision speed control, by simply sliding finger up and down the control panel. It has got a 1-touch interface for easy cleaning and quick blending along with an LCD countdown timer that gives consistent results each time.
Lastly, it includes BPA-free and impact-resistant WildSide+ jar which also has an extra-wide base as well as a narrow fifth wild side for a faster, smoother blend. Also, the Blendtec sound enclosure makes quiet blending in the home and in high-volume shops. Its top and back portions completely cover blocking sound for providing you the high volume blends with low noise.
Cuisinart Hurricane Blender
This hurricane programmable blender by cuisingart makes you experience the power with a sleek style. This ultra-quiet blender has an illuminated LED display along with a variety of speed settings. Also, a measuring cup has been provides into the lid design.
It has also got the professional power 2.25 peak HP motor which is efficient in handling even heavy pulverizing tasks with ease. Also, the double housing design keeps operation quiet. It equips the 60 oz. BPA-free Tritan jar which sits in a heavy-duty plastic base. It is uniquely designed for easy pouring as it comes with a soft-touch handle for a secure grip.
Also, this blender operates at the touch of a button, with Low and High speeds. Also, it has got pulse and pre-programmed smoothie and Ice crush options.
This noiseless smoothie blender makes healthy shakes, salsa, and vegetable soups which are smartly sized and feature-packed for convenience
It is a multitasking blender that ensures versatile use which has got stainless steel blade along with a BPA-free plastic jar for longevity
This noiseless blender has also got an efficient and powerful 1600-Watt motor for handling any job
This comes with a powerful 2.25 peak HP motor as well as a large 60 oz. BPA-free Tritan plastic jar with soft-grip handle
Automatic load-sensing technology with quiet double housing design
Preprogrammed Smoothie and Ice Crush Functions along with Electronic touchpad controls – Low, High, and Pulse
LCD display with programmable countdown timer and tight-seal lid with 2 oz. measuring cup.
Hamilton Beach Professional Quiet Shield Blender
Do you want to bring commercial quality performance to your kitchen countertop? Bring it with this quiet shield blender by Hamilton which comes with 32 oz BPA-free jar & 4 programs. It is efficient in crushing Ice as well as the Frozen Ingredients fast as it possesses powerful 1500 watt/ 20 Peak Hp and Hardened, Stainless Steel Blades. These blades work through hard ingredients in seconds.
It moreover has removable quiet shield that dampens noise during the blending process. It also has infinite speed control that ranges from super slow 3,000 RPM to fast 18,000 RPM. It comes up with 4 Program Settings for Smoothie, Ice Crush, Puree, and Clean Offer. So, it has got one-touch convenience and easy cleanup.
The variable Speed Dial Provides Control. it has a 32 Oz Shatterproof Jar which is BPA-Free Jar included with this blender. This jar tamper fits through lid in order to help bled dense ingredients. The dishwasher-safe parts, the Blender Jar, Lid and Tamper all are dishwasher safe.
It crushes ice and Frozen Ingredients Fast with its powerful 1500 Watt/ 20 Peak Hp and hardened, Stainless Steel Blades which work through hard ingredients in seconds.
The removable quiet shield helps to reduce the noise during the blending process. Also, the infinite speed control ranges from SuperSlow 3,000 RPM to Fastest 18,000 RPM.
It has also got 4 Program Settings for Smoothie, Ice Crush, Puree, and Clean. It also offers One-Touch Convenience along with easy cleanup. The Variable Speed Dial Provides Control.
It has a 32 Oz Shatterproof Jar which is BPA-Free Jar included with this blender. This jar tamper fits through the lid in order to help blend dense ingredients.
It also has dishwasher-safe Parts such as the Blender Jar, Lid, and Tamper, so these all are dishwasher safe.
Jamba Appliances Quiet Shield Blender
You must have heard about the Jamba Juice Company as it is a leading healthy active lifestyle brand. It is basically a leading retailer of freshly squeezed juice. This brand has now created a line of Jamba branded blenders and juicing products which are much quite than their counterparts. However, these Jamba appliances will deliver on the brand promise of Blend in the Good while allowing the consumers to have the Jamba experience at home.
The Jamba appliances quite shield blenders are significantly quieter than the leading competitors
It has been equipped with a sound enclosure that minimizes the noise while blending
Additionally, it has got a powerful 1.6 peak HP motor which easily pulverizes ice cubes and tough fruits & vegetables
This newly launched blender brand has equipped infinite speed control with a pulse into its quiet blenders
Lastly, it includes dishwasher safe 32 oz. and 20 oz. jars along with eith custom tamper, and recipe book.
Conclusion –
Finding the quietest blender can be a daunting task, and this is obviously because manufacturers don't include decibel ratings on their blenders. Therefore, you need to look for a blender that will give an excellent performance as well as which is affordable. However, we tried to mention the best quiet blenders at the most affordable prices. We hope our above guide will help you find a perfect noise-free blender for your kitchen. Stay tuned for more such reviews.