So you want to buy a new espresso machine and you want something that can give you a great espresso experience, but without breaking the bank, however, the $200 price point can give you the quality, entry-level machines with enough features that can satisfy your love of espresso. Though, each of the espresso machines under $200 which are listed below are selected by us because of their excellent build quality, variety of features, and satisfied customer reviews.
So, don't worry these affordable machines will deliver delicious drinks because spending more money can't guarantee you to give the best coffee. But, your willingness to spend hundreds or thousands of dollars for an espresso machine always depends on your purpose and needs. So, if your purpose is just own an espresso machine for home and office use, then you can buy some of the best espresso machine under $200 discussed in here.
Isn't it amazing that you just got to spend only a few hundred dollars for the espresso maker and it will have a lot of interesting features? However, be careful as there are some espresso makers that aren't long-lasting so go through the write-up thoroughly and check which one is the best suited as per your requirement.
Best Bar Pump Espresso Machine under 200 dollars
Delonghi EC155 15 Bar pump espresso
If you're the one who desires the convenience of having an easy-to-use espresso and cappuccino machine at home then you must check this one out. However, the De'Longhi EC155 is perfect for the beginners with limited experience. It is also ideal for anyone who has limited counter space because it is nice and compact. Let's have a look at its unique features…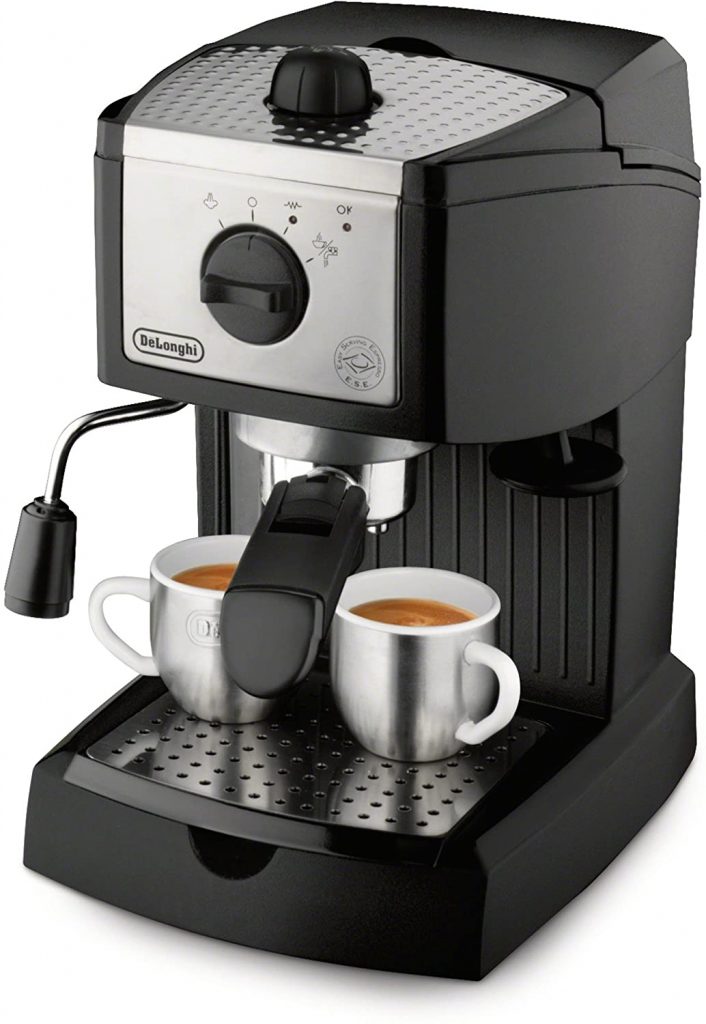 The build quality of this espresso maker is good in this price as the form factor of the machine is black hard plastic. Moreover, the parts of this machine itself are stainless steel.
The DeLonghi machine can exert a pressure equal to 15 bars which is remarkable in this price and machine's size because this amount of power is found in much larger and more expensive machines. That means the DeLonghi is more than powerful enough to make an authentic Italian espresso.
As in case of oher espresso machines, the DeLonghi also takes about 45 seconds to heat up to temperature after you flip the "on" switch. However, there's an indicator light that tells the user that when the machine is ready.
Next, the DeLonghi EC155 is a rare espresso machine because it can use either pods or grounds to brew a delicious coffee for you. This feature can make a difference on mornings where you don't feel like grinding your coffee before brewing it. However, this machine doesn't have a built-in coffee grinder but still it is great as it is capable to pick between multiple sources of coffee.
This coffee machine isn't the easiest espresso machine but trust me it isn't also overwhelming. The machine self-primes on startup as you touch the button so it's easier to use than more complicated machines out there.
Last but not the least, the DeLonghi EC155 is also very easy to clean because the drip tray of this machine as well as the water reservoir pops out without any trouble.
Mr. Coffee Espresso and cappuccino maker
This is an espresso, cappuccino, and latte maker machine. However, it is a tool which has all the basic capabilities for someone who is just starting out in the world of espresso. Although there can be a few challenges to the brew capacity of the Mr. Coffee Cafe Barista but it excels when it comes to being user-friendly. So, with just three buttons and simple indicator lights, you have no need to learn very much in order to get started making coffee.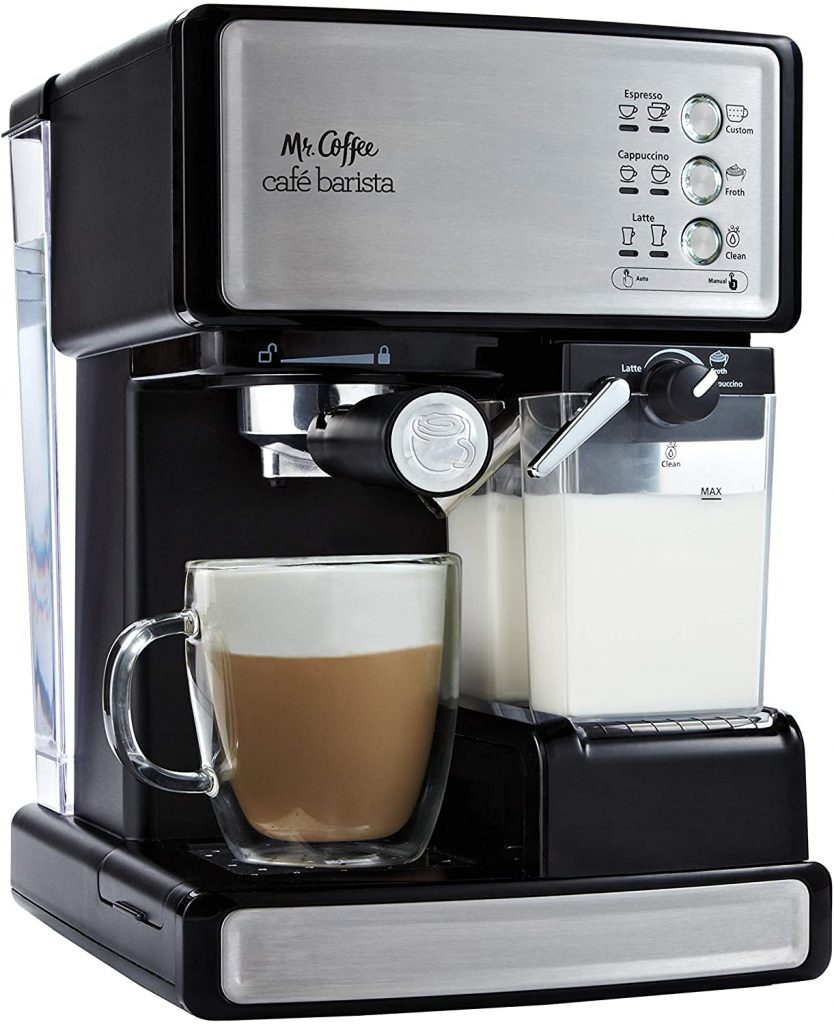 Moreover, the most convenient feature the Mr. Coffee Cafe Barista offers is the one touch or two touch (if you want a two shots in your coffee drinks) programs. That means, with just one or two presses of a button, this machine will steam and froth your milk and then dispense your delicious espresso coffee, all without user intervention. Some other features of this espresso maker are as follows:
This coffee maker comes up with 15-bar pump pressure. And this espresso maker features a one-touch control panel as well. These features allow you to choose from a single or double shot of espresso, cappuccino or latte. Moreover, an automatic milk frother is given in this coffee maker which turns your favorite milk into a light and creamy foam with ease.
It is simple to use as you just need to simply add water, your choice of milk along with your espresso grounds and the Cafe Barista will do the rest.
The manual function of this espresso maker also allows you to further customize your beverage to help you create that perfect cup of coffee for your day.
It also comes complete with a removable water as well as milk reservoir that makes easy filling, cleaning and storing of leftover milk. It also has an adjustable cup tray that can accommodate large mugs or small cups, single and double shot filters, measuring scoop and tamper.
It also includes recipe book which contains 20 easy-to-make coffeehouse drinks and it has a wipe clean exterior.
Breville Inissia Espresso Machine
If you're someone who wants to get a barista-style coffee every time, then this Breville Inissia Espresso Machine is the one for you as it comes with a single-touch technology which will give you the convenience of preparing just what you need in just one press of a button. Moreover, its extraction system also comes with 19-bar of pressure pump which ensures that the great taste of your coffee stay intact, even from its small shell.
It's the smallest single-serve espresso machine which has a sleek and modern design that fits into anyone's kitchen. In addition to this sleek design, this machine is very efficient. So, you can reach the ideal temperature in just less than 30 seconds. That means, you can start brewing right away. Moreover, it has two programmable brew sizes, (i) espresso (1.35oz ), and (ii) lungo (5oz), each with a dedicated button. However, this will automatically shut off after 9 minutes of inactivity in order to save energy. Some important features of this machine are as follows:
Sleek and compact design, easy to transport, heats up and brews fast and has easy controls and very neat. It has very compact design and has award-winning design and aesthetics.
It gives you more color choices from the two versions and it is an affordable machine among the Nespresso coffee makers.
It also comes up with one-touch programmable button for Espresso and Lungo. Moreover, it is portable and lightweight.
Straightforward operation with ease of cleaning also it heats up in less than a minute
Talking about performance, it creates a barista-style coffee with its one-touch operation and extraction system which delivers up to 19 bars of pressure.
Last but not the least, this is the newest and smallest ever single-serve espresso maker. And this compact design will come without compromising on exceptional coffee and espresso moments.
Breville Cafe Roma Stainless Steel Coffee Maker
The Breville ESP8XL Cafe Roma Espresso machine is among those espresso coffee machines which have impressed everyone in every possible manner. But, it has equipped certain things which stand this coffee machine out from the rest. The thing which is liked the most about this machine is the stunning design along with the daring use of steel that brought out its complete look in the best way. Moreover, the unique features also push this machine to another level.
However, this is the great Espresso maker for every household because it works perfectly for years without any problem. Additionally, the easy maintenance and assembling makes it the perfect choice for your kitchen. This machine is also affordable which makes it a great choice to buy this machine.
It is made of Stainless steel which gives it a unique yet gorgeous look. The steel rod with froth enhancer gives best milk frothing.
It has also got 15 bar pump system and the Thermo-block system for perfect temperature and creates finest Espresso drinks.
The dimensions of this machine are 23*30*24 cm and it weighs around 7.5 Kg which can be easily kept in your kitchens.
It has a vast 1-litre water tank and also includes external water window to indicate lower water level. Moreover, it equips a dual wall filter that makes the beautiful cream.
If you want to make nice frothing using milk, use the rod with the tip unharmed. Once you have made your Espresso, you can even slide off the tip. The warming tray of this coffee maker includes heats up to 6 Espresso cups.
SOWTECH 3.5 Bar 4 Cup Espresso Maker
Do you want to make a rich taste espresso coffee yourself at home? However, finding the best espresso maker that is affordable too can be quite difficult. But this portable espresso machine will help you solve those problems. Moreover, the compact design of this SOWTECH coffee machine is also very easy to get start with. With this, you could make some good taste drinks just in several minutes. Some important features of this espresso maker are as follows:
3.5 Bar Steam Pressure which can make the filtering more stable. Also, you can get 4 cup espresso at once from this espresso coffee machine which is equal to 240ml.
This machine separates the rich and smooth crema so that it can save the original taste of the coffee. Moreover, it comes with a compact and durable design which looks elegant with the stainless steel decoration.
With stainless steel decoration looks elegant and comes up with removable drip tray for easy cleaning
Carafe with accurate water level gauge and contains a powerful milk frother for creamy foam and efficiency to save the space of your counter with the smaller size of this Espresso Machine Pump
The electric espresso machine is equipped with power milk frother which you could use for making thick and creamy foam.
Moreover, it is simple to use as the single switch knob with indicator light make it easy to operate. However, the stainless steel compact design of the espresso coffee machines also saves lots of space because it is smaller and lighter. Additionally, the removable and washable drip catcher collects all the coffee drips and keeps your brew space tidy. So, this is the best for home and kitchen use. Also, this coffee espresso machine with frothing arm makes creamy froth for topping off your cappuccinos and lattes. These velvety smooth espressos will make your mornings so much better.
Conclusion:
And there you have it all. We hope you've found all the information related to the best espresso machines for home baristas under $200. So, now all you need to do is learn how to use your machine and just brew and enjoy that damn fine espresso. Buy any of the above recommended espresso coffee maker and get freshly brewed, high quality espresso every time. Stay tuned for more such interesting reviews.