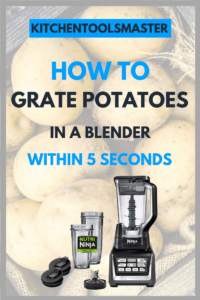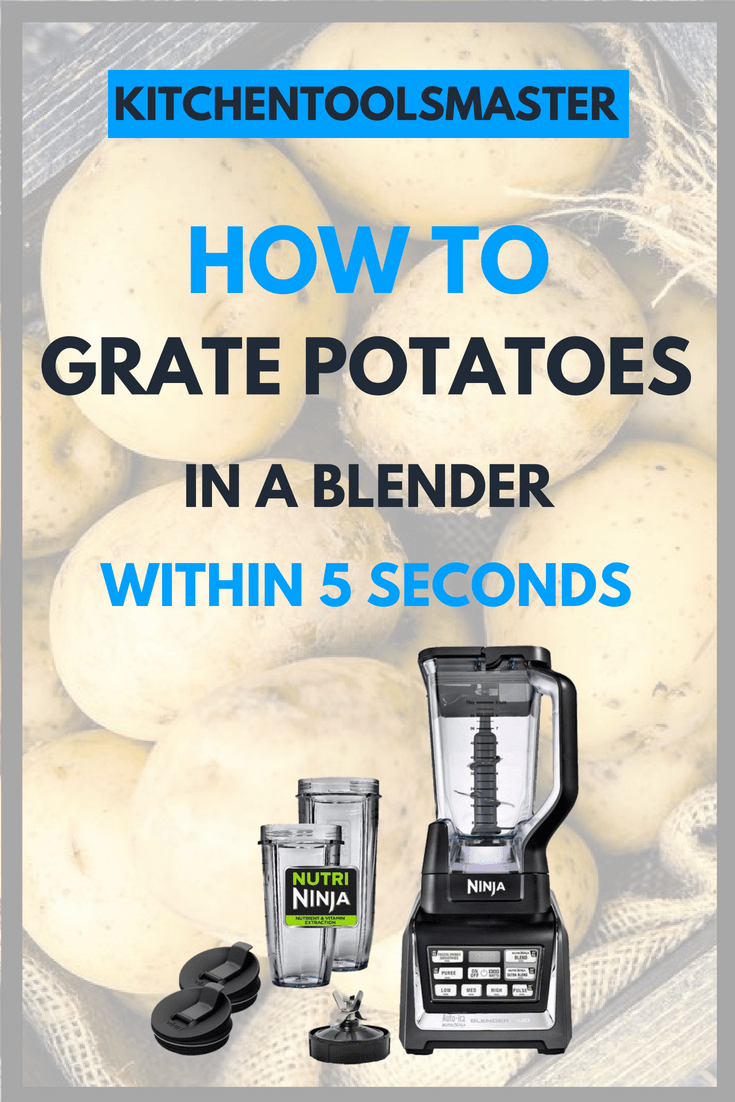 Most Ninja Blenders can triple as juicers and food processors. This depends on the model you choose and of course, it will be slightly pricey. Once you decide that the cost is a worthy investment, you can take that new Ninja back home to your kitchen and prepare for some culinary magic.
After that grand introduction, it might seem a bit crass to broach a topic on grating potatoes (which is essentially food processing) using your Ninja. However, anyone who has spent a good while in the kitchen knows that making your task simpler and faster without sacrificing quality and taste is no small calling. Bet that potato grating is starting to look good now, what with the blender  nearby and you ready to read what we have to say about making the entire process a cinch.
How to Grate Potatoes In a Ninja Blender – The Process Step-by-Step
The right kind of grated potatoes can leave you with a nice yummy pile of hash browns or potato pancakes; your preference how you use them.

Too much grating can result in a potato puree, which is alright if you want that exactly. But our guide is mainly going to center round the former chunky version

Water is your best friend, because it helps prevent browning (i.e., oxidation) while you are grating and grants, you extra control over the potato processing, um, process

What else do you need? Colander, a potato peeler, large bowl, and paper towels

Before peeling, wash the potatoes under cold running water. This is standard procedure, and you must have read that exact line everywhere

For ordinary-sized potatoes, slice each into quarters. For larger potatoes, do them in eights (each quarter gets quartered)

Collect water in the large bowl; 1-2 inches water level. To the blender, on the other hand, add 2 cups of water

Take eight or so potato slices and drop them in the blender jar

There will be a 'grate' button on your Ninja. Select it and let the machine do what it does; 5 seconds tops, then stop.
Never Hurry, Keep Checking Your Work
At this time, check your potatoes' consistency. If you need them smaller, grate another 5 seconds. Remember you are grating not pureeing, hence the 5-second count.
Transfer those properly grated potatoes into the bowl of water.

Grate the next four portions.

Repeat until all potato quarters have been grated.

Use the colander to drain the potatoes.

This prevents damage to the smaller pieces else, your hand dips in and pushes them against the inner bowl. You need their juice otherwise the water bowl will dissolve a good many bruised potatoes and ruin the nutrient value; more on this in a moment.

Place the potatoes neatly along several paper towel sheets you should have arranged on a flat surface; you can do this while the potatoes wait no rush. You are then going to squeeze them dry using the paper towels.

You now have grated potatoes.
Remember we said you need that leftover water? Here's why…
Strangely enough, you made a juice, in a manner of speaking, out of a very powerful vegetable and you did not, technically, create the liquid inside the blender.

With the potato water you squeezed and strained to remove any paper towel bits, you can add other veggies as you see fit, throw the lot into the blender jar, and make a supremely healthy smoothie.
Benefits of Potato Juice
If the potato water is not your cup of tea, so to speak, make an actual juice out of potatoes. This blender helps with juicing too. You can indeed store potato juice for later use, so no worries about shelf life. Also, make sure you mix some honey or carrot juice (healthy sugars, if you lack honey) so the potato juice becomes palatable. Otherwise, it tastes a bit yuck.
As with most yucky veggies, potato juice packs a plethora of health advantages:
Flushes out uric acid, making it great against gout.

Its alkaline nature alkalizes the body, keeping several diseases at bay including cancer and cardiovascular ailments.

It lowers cholesterol.

Being anti-inflammatory, it is great against arthritis as well as general aches and pains associated with inflammation (back pains, joint aches, etc.).

Promotes blood circulation to all areas of the body.

Great for skin-clearance; works wonders against acne and eczema.

Outstanding detox agent, helps flush out the gall bladder and liver.

Countries like Japan have been using potato juice for decades to help treat hepatitis.

Here is one of the best uses for potato juice… A cup before breakfast and another a couple of hours before going to bed. What do just two cups of potato juice do? They burn calories and help you reduce weight.
So, whether you grate potatoes for use in various meal preparations, puree them to make a saucy dip, juice them to gulp a health-smoothie, or mix the squeezed and strained potato water to add to a glass of blended goodness, you are making all the right moves in all the right directions.
Conclusion
The benefits of one veggie, namely the potato, is enough reason to rely on quality blenders like models from Ninja to squeeze out every ounce of nutrition from organic foods. The value of a good blender rests in how efficiently it can work with varied solids and mash them into a consistent smoothie that looks as well as tastes great.
So, whether you grate potatoes for use in various meal preparations, puree them to make a saucy dip, juice them to gulp a health-smoothie, or mix the squeezed and strained potato water to add to a glass of blended goodness, you are making all the right moves in all the right directions. Aren't potatoes wonderful? With these blenders, nothing goes to waste.
This is your aim, to waste nothing. These blenders are known for their powerful motors and supreme blade technology that work together to create excellent health-drinks. Ordinary blenders in comparison fail to live up to Ninja's results, which is why you drop a good several ounces of otherwise valuable nutrition down the drain. Get yourself a Ninja Blender and be it potatoes or carrots, apples or oranges (or any combination of veggies or fruits), you will see an beautiful blend that comprises all parts of that vegetable or fruit. The health potential is self-evident.
Aren't potatoes wonderful? With Ninja Blenders, nothing goes to waste.